Baylor Bears
Top Five Big 12 Football Steals in the 2022 NFL Draft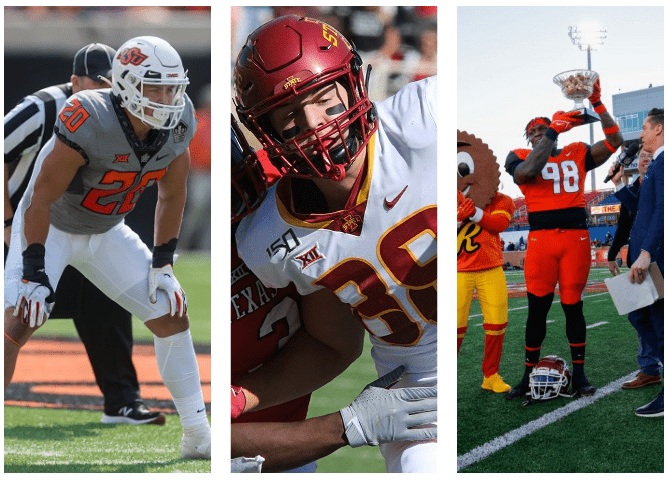 The 2022 NFL Draft wrapped up on Saturday with every team convinced that they have turned themselves into a Super Bowl contender with their selection of more than 250 college football players. However, we know that's never the case. There will be first round busts and seventh round success stories.
But this week is all about optimism, and we're all about the Big 12 Conference, so let's highlight who I believe will be the top 5 steals from the Big 12 in this year's NFL Draft. These are not the best Big 12 players picked, as they all were successful college football players, but rather the biggest steals based on where they were picked and how I think they'll perform in the NFL.
Nik Bonitto, Second Round, No. 64 Pick, Denver Broncos
The Denver Broncos got a potential star with the last pick of the second round in Oklahoma EDGE Nik Bonitto. His combination of size and speed has earned him the "unicorn" moniker among NFL GMs and clearly Denver was prepared to pull the trigger when their second-round pick was up. In 36 games over four years, Bonitto recorded 118 tackles, 33.0 tackles for loss, 19.5 sacks, seven passes defended, one interception, and one forced fumble. Bonitto will now start chasing around some of the best quarterbacks in the league out in the AFC West in Patrick Mahomes, Justin Herbert and Derek Carr.
Charlie Kolar, Fourth Round, No. 128, Baltimore Ravens
Charlie Kolar feels like he's perfectly built for the AFC North, getting to play in Pittsburgh, Cincinnati and Cleveland, after spending his college football days at Iowa State. Kolar was a three-time First-Team All-Big 12 selection during his playing days with the Cyclones. He finished his college career with 2,181 receiving yards and 23 touchdowns. At 6'6", 260 pounds, he becomes a big-bodied target for quarterback Lamar Jackson, and I believe will make an immediate impact on the Baltimore Ravens offense.
On top of that, Kolar impressed in the classroom. He was the winner of last season's William V. Campbell Trophy. Also known as the Academic Heisman, the Campbell Trophy is presented to the nation's top scholar-athlete annually and recognizes the dedication and hard work it takes to achieve one's goals on the field and in the classroom.
Perrion Winfrey, Fourth Round, No. 108, Cleveland Browns
Winfrey has first round talent. There's no denying that. But there were some off-field concerns that dropped him to the third round. However, if he reaches his full potential, this will be an absolute steal for the Cleveland Browns, especially with him being paired on the defensive line with Myles Garrett. Joe Burrow has to be shaking in his boots at the thought of that duo playing up to their abilities together. In 20 games with the Sooners, Winfrey had six sacks and 16.5 tackles for loss. Winfrey also made a great video of his own reaction to being drafted by the Browns, which is worth watching here.
Terrel Bernard, Third Round, No. 89, Buffalo Bills
Bernard overcame injuries, but ended up with an incredibly productive career at Baylor. He is considered an undersized linebacker who has good range and plays with incredible effort. He was a First-Team All-Big 12 selection last season, after being named a Second-Team selection in 2019 and 2020. As a redshirt senior in 2021, he racked up 106 tackles with 12.5 for loss and 7.5 sacks. Bernard is more than just a stat machine, he's also a leader. He was a team captain and was the MVP of Baylor's Sugar Bowl victory. "When I think of the heart, soul, and character of our team, I think of him," said his current Baylor head coach Dave Aranda. That's the kind of guy the Bills picked up.
Malcolm Rodriguez, Sixth Round, No. 188, Detroit Lions
The former Oklahoma State linebacker got hit by NFL front offices because the former safety is a bit undersized for the position at 6′ and 230 lbs, but anyone who watched the Big 12 in recent seasons know that Rodriguez has great instincts, top-end speed and takes excellent angles. He finished sixth in the nation in 2021 with 76 solo tackles, including 15 for loss with 10 quarterback hurries, four forced fumbles, two recoveries, two sacks and one interception. Oh, and the linebacker was the leader and heart of soul of one of the top defenses in the country, voted captain by his teammates each of the past two seasons.