Trending Now
Paul Finebaum on Lincoln Riley, Jordan Addison Recruitment: 'We Have Legalized Cheating' in College Football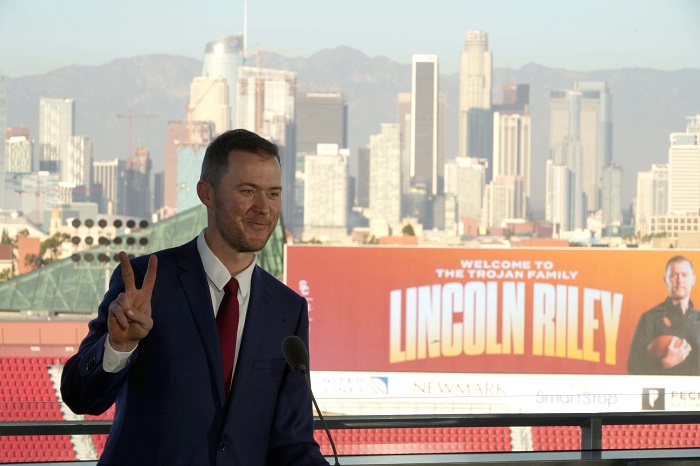 If you didn't hear over the weekend, Pitt wide receiver Jordan Addison was mulling over the idea of hitting the transfer portal and heading across the country to USC late last week, according to ESPN.
As rumors and reports started to circulate, it became apparent that there may have been tampering on the Trojans' part, which is quite funny considering their head coach was so outspoken about the portal needing some guardrails back in February.
Now, his school is reportedly trying to bring in Addison with promises of elite name, image, and likeness deals on the west coast.
Pitt head coach Pat Narduzzi called USC head coach Lincoln Riley to express his displeasure with the situation surrounding the Panthers' All-American wideout, and although tampering hasn't been confirmed at this point, Pitt officials are certainly suspecting that it did occur.
Not only was Addison a consensus All-American in 2021, but he also won the Biletnikoff Award after hauling in 100 receptions for 1,593 yards and 17 touchdowns in 2021. That, coupled with Riley's reputation at the moment, makes this a sticky situation for the former Sooners' head coach.
ESPN personality Paul Finebaum discussed the situation on Monday morning when he appeared on "McElroy and Cubelic In the morning" on WJOX out of Birmingham, Alabama.
"Well, this individual situation, Pat Narduzzi, please give me some evidence of tampering, and if you have evidence, and if you have it on film, then tell me where you go with that," Finebaum said. "Because the NCAA's not concerned, they don't really care. I just laugh when I hear coaches get upset. It makes no difference whatsoever because we have legalized cheating out there right now."
To say that Riley is the only one out there using NIL to lure athletes to his school is preposterous because that simply isn't the case. This has become a widespread pandemic in college football that has permeated even the strictest of programs.
"The concept of name, image and likeness was for players to be able to use their name, image and likeness to create opportunities for themselves. That's what it was," Alabama head coach Nick Saban told the Associated Press. "So last year, on our team, our guys probably made as much or more than anybody in the country."
Saban recognizes that NIL has a place in football, but he's not particularly happy about where things are headed with regards to its effect on recruiting.
"But that creates a situation where you can basically buy players," Saban said. "You can do it in recruiting. I mean, if that's what we want college football to be, I don't know. And you can also get players to get in the transfer portal to see if they can get more someplace else than they can get at your place.
"We now have an NFL model with no contracts, but everybody has free agency. It's fine for players to get money. I'm all for that. I'm not against that. But there also has to be some responsibility on both ends, which you could call a contract. So that you have an opportunity to develop people in a way that's going to help them be successful."