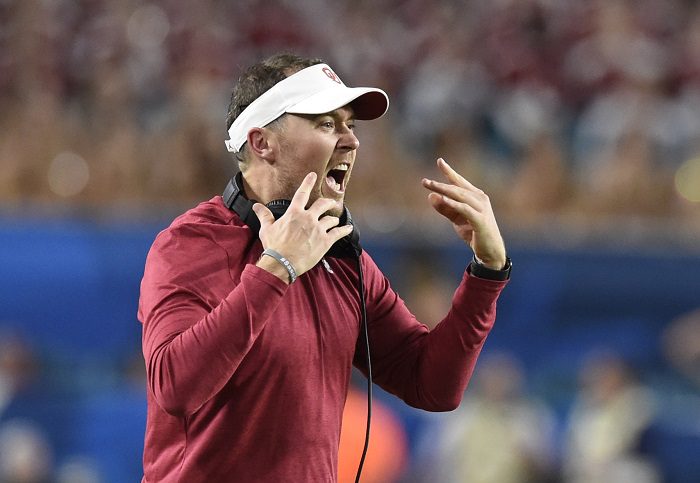 Two weeks ago, Lincoln Riley attempted to control the narrative about his departure from Oklahoma in a piece titled "Sometimes Life Throws You a Curveball" in The Player's Tribune.
In that piece, Riley called USC the "right job at the right time" for he and his family. In many more words, Riley tried to clear the air and end the questions about his reasoning for leaving Oklahoma, a model of consistency over the last two decades, for USC, which has fired three coaches in the last 10 seasons.
Unfortunately for Riley, those questions will likely continue until football season arrives and gives us something else to talk about. On Monday, Riley appeared as a guest on "The College Football Daily Podcast" with Brandon Marcello of 247 Sports, and was asked about the narrative that he left Oklahoma for fear of competition in the Southeastern Conference, which Oklahoma is set to join by 2025.
"No, there's not any truth to that," Riley said. "I mean, I took a pretty big job when I was 33 years old. And the reality of the matter is the easier thing for me would've been to stay at OU. I mean, that program was running at a high level. And, family's settled, staff's settled. I mean, a lot of things that were going really well – and I absolutely think will continue to go well; it's a tremendous program. So that program's going to be just fine. But the easier thing would've been to stay. And it's tremendous in every sense.
"But the chance to do this at this place, combined with some of the opportunities for my family off the field — the life away from it, the chance to live in this place, educational opportunities — it was just, at the end of the day, it just really was the right place at the right time. And if you're afraid of a challenge, you don't take the head coaching job at OU when you're 33 years old. You don't come out to USC to do this. I mean, that's — the people that know us and know us well know we embrace those things, just like we're going to embrace it here."
This simply doesn't make sense if you think about it from the perspective of a competitor. Why would you leave a place where you've gone 55-10 over five seasons for a team that has gone 33-24 in the same period.
Lincoln Riley faced an SEC foe in each of the four seasons that he coached a bowl game at Oklahoma. In those games, he was 1-3 and was outscored by an average of 54.0-36.6 in the losses.
In the grand scheme of things, everything worked out for the better for each party. Riley gets to take USC back to Pac-12 prominence, which I believe that he will. Oregon is the only team that the Trojans should have to worry about year-in and year-out, which is a much better situation for job security than being tucked into the SEC West with Alabama, Texas A&M, LSU, Auburn, and Ole Miss.
On the other side of things, Oklahoma is better equipped to enter the SEC now than it was six months ago under Brent Venables. The style of play and mentality of the football team in Norman is drastically different in just a short amount of time, and by 2025 the Sooners will likely have what it takes to compete every week in the SEC, which just wasn't the case under Riley. That's not an indictment of what Riley is capable of as a head coach, because he was very successful at Oklahoma. It's just a simple fact that the style of football Oklahoma got very good at playing wouldn't cut it in the SEC.
The logical reason for Riley's departure is simple: Oklahoma has an extremely high standard and is heading into the toughest conference in football. If Riley turns in three eight-win seasons at Oklahoma when they go to the SEC, he's likely out of a job. If he turns in three eight-win seasons at USC, he is a savior. There's no shame in making a career choice based on job security, just don't tell everyone that that's not what happened.