Big 12 News
Agiye Hall Compares Alabama to Texas: 'Texas Fans Love You Unconditionally'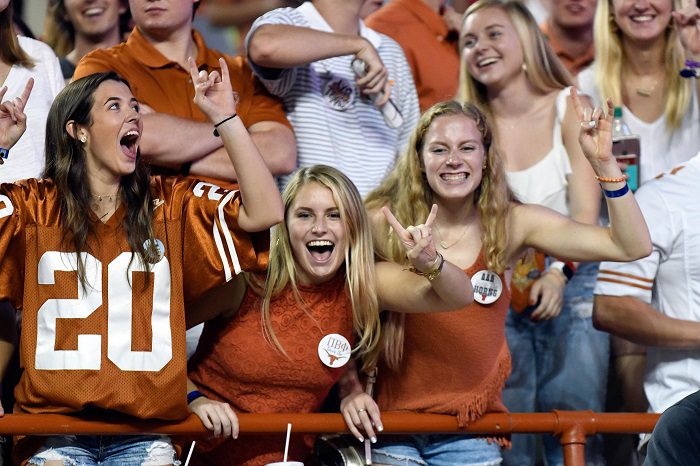 Last month, Texas landed a huge addition in the transfer portal, as former Alabama wide out Agiye Hall left Nick Saban and the Alabama Crimson Tide to come and play for Steve Sarkisian and the Longhorns.
The honeymoon phase between Hall and Longhorn fans is clearly still in full swing as the Alabama transfer compared the fans of his new team to his old one.
"One thing that really stood out is the culture," Hall said. "Bama fans — they're not really loving, if I could say — even when you leave. Texas fans are like a family. They love you unconditionally. They want the best for you and want to make sure you're striving to be the best person you are, whether it's people in the stands, players, or coaches – they're all connected, which is a good thing."
His addition gave the Longhorns one of the most dangerous wide receiver rooms in the country, a room that already held star sophomore Xavier Worthy, and Wyoming transfer Isaiah Neyor.
Longhorns fans are certainly happy about getting Hall, a freakish athlete at 6-3, 195 pounds, and the nation's 45th ranked prospect in the 2021 class.
With explosive speed and natural ball skills, Hall reportedly runs a 4.4 in the 40 and has a 41-inch vertical. However, Hall brings more than just speed and length to Austin.
"One thing I like to provide for my teammates is my blocking," Hall told 247Sports. "That's going to be a big thing. Sark likes to do a lot of screens. At Bama, he did a lot of screens, so the blocking on those plays is huge.
"As a teammate, I'm gonna bring a lot of competition. Some of the wide receivers were kind of looking at me sideways, thinking, 'He's gonna be competition.' But that's gonna push them to be better, and it's also gonna push me to be better. It's gonna raise the whole offense and raise the whole defense."
Sometimes, when a player of Hall's character arrives on campus, they are there just to put their talent on display so they can move on to the NFL, but Hall says otherwise. He wants Texas fans to know that he is coming to change what Texas football means.
"The one thing Texas fans can expect is – a million percent – that this team is probably going to be one of the best teams that they've had. I'm going to make sure I do everything I can – for not only myself – but for my teammates and my coaches for this year that you see the biggest change ever."