Big 12 News
Alabama Could be Moving on From Arch Manning, Opening Door for Longhorns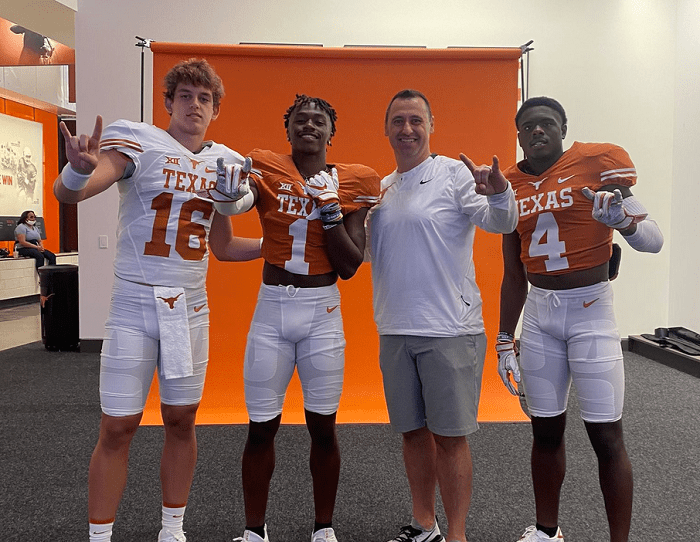 Arch Manning is the only quarterback in 2023 that Texas has shown interest in, and for good reason. Manning is the top overall prospect in the 2023 class, and one of a handful of recruits to ever receive a perfect 1.000 grade from 247Sports.
Manning has visited Austin several times, in fact more times than any other school on his list, but the race for the NFL legacy is far from over. Throughout the process thus far, the Longhorns' biggest challengers have been the Alabama Crimson Tide and the Georgia Bulldogs, both teams that played in the 2021 College Football Playoff National Championship.
However, it looks like one of those challengers could be switching its focus to another prospect, as Alabama has reportedly switched its gaze to another talented quarterback in four-star quarterback Eli Holstein.
"So Bama obviously loves Eli Holstein. They're not going to basically wait around for Arch," national recruiting analyst Greg Biggins said. "They see Eli as a guy and they sound like they're going to zero in on him and make a hard push for him if you've got (head coach) Nick Saban calling him."
Holstein was originally committed to Texas A&M until March 18, but decommitted then and was at Junior Day in Tuscaloosa just two weeks later. Then, one week after that, Holstein was back in Tuscaloosa for another visit, and the rumors surrounding their eventual marriage have only grown since them.
Does this mean that Texas and Georgia are the only teams left standing for Manning? Not necessarily, but it only helps the Longhorns' chances this late in the game.