Kansas Jayhawks
Big 12 Baseball Preview: Two Huge Matchups Headline the Weekend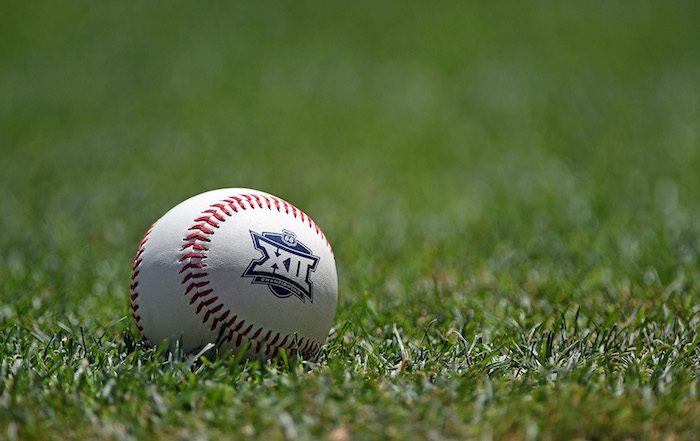 College baseball has moved into the meat of its conference schedule as teams start to figure out where they stand in the conference hierarchy.
There are plenty of exciting matchups heading into the weekend so let's take a look at the upcoming schedule. Keep in mind that Texas Tech and Baylor have the weekend off.
Oklahoma at #24 TCU
Despite TCU being on top of my weekly power rankings, the Frogs had a rough three-game stretch last week. They now have a chance to pick up some momentum as they face a tough Oklahoma team. TCU is still near the top of the Big 12 standings so a series win would go a long way here. Due to the recent performances, TCU has dropped off some numbers-wise. The Frogs had multiple players batting over the .300 mark and now they have just two with Tommy Sacco and Brayden Taylor. Plus, I want to see this starting rotation get back on track as well after struggling the last few games.
As for Oklahoma, this is a HUGE series for them. They are still fighting for their postseason hopes and this series could launch them into the Big 12 title talk if they can pull off a shocking sweep. Peyton Graham, Jimmy Crooks, Tanner Tredaway, and Blake Robertson have been hot at the plate, and they could take advantage of a struggling TCU pitching staff right now. The question is can the Sooners keep the bats of TCU quiet because outside of Jake Bennett, Oklahoma hasn't been great on the mound.
Texas at West Virginia
When I look at these two teams, I still think Texas is better overall despite West Virginia having the better conference record. Over the last several weeks, no other Big 12 team has fallen off the wagon more than the Texas Longhorns. They were supposed to be the clear-cut favorite to win the conference and they sit with a .500 record in Big 12 play. I know Texas has some great hitters in Ivan Melendez, Murphy Stehly, and Skylar Messinger but some of their other guys have fallen off a bit. And speaking of falling off, what has happened to this pitching staff? Pete Hanson and Tristan Stevens looked bad last weekend and without those two on top of their game, this team will continue to struggle.
For West Virginia, this is a must-win series to stay alive in the Big 12 title race. They have a 9-6 record, and this should be the toughest series left on their schedule. The Mountaineers haven't been great at the plate this year outside of McGwire Holbrook and Austin Davis, but they have been holding opponents due to their pitching. However, their pitching has been inconsistent but at times has looked great with Ben Hampton leading the way. The big key to this series will be the West Virginia pitching staff against the bats of Texas.
Kansas at Kansas State
If you take a look at the bottom of the Big 12 standings, you will find these two teams. Neither one is going to make the postseason unless one of them magically wins the conference tournament, but I wouldn't count on that. Outside of Maui Ahuna and Nolan Metcalf, there hasn't been much to smile about when it comes to the Kansas Jayhawks on the diamond. Their pitching staff gives up a ton of runs and that should give Kansas State the advantage with hitters such as Dominic Johnson, Justin Mitchell, Cole Johnson, and Dylan Phillips.
SEMO at #3 Oklahoma State
This may not sound like much on paper, but Southeast Missouri State has a good baseball team. They have a 30-13 record and are even projected to make the postseason. The RedHawks have three power hitters with Andrew Keck, Tyler Wilber, and Jevon Mason who have combined for 39 home runs this season, and have an excellent pitcher with Austin Williams.
Oklahoma State can hit as well with Jake Thompson leading the way, but this team has relied on some solid pitching from Justin Campbell and Bryce Osmond. If the Cowboys can keep them going strong, they should be able to take the series and their bats should be enough to get around SEMO's ace. Either way, the good news is that no matter what happens this weekend, this is a non-conference series, so it won't hurt Oklahoma State too much outside of national seeding.