Baylor Bears
Ranking Big 12 Quarterback Rooms after Spring Football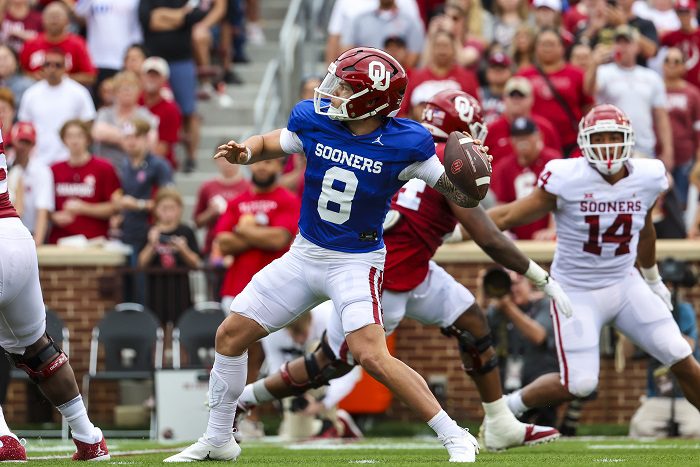 Now that spring football is over, and the transfer portal has cleared up, it's time to look ahead to the fall, and the most important position of the team.
1.) Oklahoma
Projected Starter: Dillon Gabriel
Backups: Nick Evers, Ralph Rucker
Losing both Rattler, and Williams was a tough blow for the Sooners, mainly Williams, as Rattler may need to look in the mirror after calling OU a toxic situation. Dillon Gabriel was a heck of a pickup for the Sooners, and while he probably won't be Baker Mayfield or Kyler Murray, he's an experienced, capable QB who will be ready to start in the Big 12 on day one, and is currently leading in Heisman odds. He has solid accuracy; as you should expect him to complete 60-65% of his passes this season, and his pro-style has excelled in Jeff Lebby's system. I doubt that he'll end the season in the Heisman race, but he should put up solid numbers and have every opportunity to win OU another Big 12 title. The Sooners won't have another QB controversy like last season, but they should also have a very capable backup in four-star Nick Evers, who, if things go to plan, could be a contender for the 2023 Heisman.
2.) Texas 
Projected Starter: Quinn Ewers
Backups: Hudson Card, Maalik Murphy
Texas undoubtedly won the prize of the transfer portal this offseason when they landed redshirt freshman Quinn Ewers, one of the highest-rated high school prospects in history. Don't let that freshman by his name fool you, if he's in Austin for more than two seasons something has gone horribly wrong. But I don't expect that to happen. He's a dual-threat QB with mobility and insane arm talent, but I'd expect some growing pains his first year as a starter. We saw in the spring game his accuracy just isn't quite there yet, but I'd bet it will be by next season.
He's going to be tested early on, with a home game in Week 2 against Alabama, a possible trap game the next week with UTSA, and a trip to Lubbock the week after that.
The top team in the nation, a trap game, and a hostile environment all in the first month of his career as a college starter will be something to watch. When you look at the bench you have to give Card and Murphy credit for staying on the 40 acres, while you'd expect Murphy to transfer, if Ewers goes down Texas fans should be able to take comfort in their backups.
3.) West Virginia
Projected Starter: JT Daniels
Backups: Garrett Greene, Will Crowder
Neal Brown desperately needs to turn things around this season if he wants to be in Morgantown in 2023, and he got a huge addition in the transfer portal with former Georgia backup JT Daniels. The only reason Daniels wasn't the starter last season was likely a mix of injuries and locker room issues. Without a doubt, West Virginia's QB situation is much better off and more settled this season, and undoubtedly Mountaineers fans will be relieved to have an NFL prospect, instead of Jarret Doege, running their offense this season.
4.) Texas Tech 
Projected Starter: Tyler Shough
Backups: Behren Morton, Donovan Smith
The losers in the Quinn Ewers sweepstakes were Texas Tech, and that may not be a bad thing. Shough entered last season as a first-round draft prospect before an injury in Week 4 sidelined him for the season, but under Zach Kittley's offense, you could see him explode this year. He's a very accurate passer that can also move in the pocket, despite a few rough throws in the spring game, he'll be fun to watch and could end the season as a first-round draft pick. A strength for Texas Tech is the depth of this QB room, Morton is a four-star prospect, and appears a little bit like Bailey Zappe, who Kittley did wonders with. Donovan Smith went 2-2 in his four starts last year, despite being underdogs in all four, and nearly knocked off Baylor as well. Add in recent commit Jake Strong, the Texas Tech QB situation should be a solid one for the next five years, coming off of five tumultuous years after the Mahomes era.
5.) TCU
Projected Starter: Max Duggan
Backups: Chandler Morris, Sam Jackson
For the fourth straight year, Max Duggan will be under center for the Horned Frogs, and there's good reason to believe he could make a leap this year. Every season since he got to Fort Worth, both his accuracy and passer rating has increased. The one concern is that he's more of a pro-style QB, and with the changing of staff they're likely to resemble the air raid more, while that should boost his numbers it'll be interesting to see how he fits into it. If he fits into it he could be the best QB in the Big 12, if not it could be another long season for TCU. Behind him is Chandler Morris who got in four games last season, including an upset over Baylor, to say they have a capable backup may be an understatement.
6.) Oklahoma State 
Projected Starter: Spencer Sanders
Backups: Gunnar Gundy, Garrett Rangel
At this point Spencer Sanders is who he is, a quality Big 12 QB that isn't elite, but can win games and do the job. He does have a knack for committing errors that he just doesn't need to commit but despite this, he took the Cowboys to the Big 12 title game last season, and a Fiesta Bowl win. He's a dual-threat QB who's gone for over 600 yards rushing the last two seasons and can be a problem in space. Behind him is Mike's son Gunnar, and four-star Freshman, Garrett Rangel. No matter what, the Cowboys should have a solid QB room both this and future seasons.
7.) Kansas 
Projected Starter: Jalon Daniels
Backups: Jason Bean, Jack Jackson
Kansas football may just be turning a corner. Not only did they play Oklahoma close and beat Texas last season, but they also nearly beat TCU and West Virginia to end the season. Plus, the Jayhawks were successful in the transfer portal. All of that is thanks in no small part to the play of Jalon Daniels, who not only won the team over but helped begin to change the culture. There's little doubt he's the future of this Kansas team with three years of eligibility left: he's accurate, and can move. The continuation of his development should be fun to watch, and I'd bet that should he stay in Lawrence, he'll play in a bowl game before he leaves.
8.) Baylor 
Projected Starter: Blake Shapen
Backups: Kyron Drones, CJ Rogers
Resembling the current state of college sports this list won't feature many returning starters, for Baylor that may be a good thing. You don't want to be unfair to Gerry Bohanon, but he certainly didn't have the elite upside that Shapen may have. Shapen certainly looked good in Baylor's most important game of the season in Arlington winning the Big 12 title. But he's still unproven and has thrown less than 90 passes in his career, the question coming into the season will be whether Baylor struck gold with him or if he was a one-hit-wonder. He's a high three-star, but short at a flat 6-0, but with Baylor's defense he'll rarely be asked to do more than needed, or what he's capable of, and he's already proven he can do that in one of Baylor's most important games in program history.
9.) Kansas State
Projected Starter: Adrian Martinez
Backups: Will Howard, Jake Rubely
Adrian Martinez is, in a word, something Nebraska fans are probably glad to not have to watch another year of that family at the helm, but he's not bad. He's certainly not a Heisman contender like he was projected to be early in his career, but he's experienced and can keep teams in games. Sometimes he's frustrating to watch without a doubt. He's so up and down that there'll definitely be a point this season people call for him to be benched, but he won't be. Kansas State's developed a pedigree for finding ways to win when they're in the game the past decade, and that's probably what you can expect from Martinez this season. Getting out of Lincoln was definitely a great career move, and he will prove that this season.
10.) Iowa State- 
Projected Starter: Hunter Dekkers
Backups: Ashton Cook, Rocco Becht
How do you follow up a legend? That's a question Hunter Dekkers will have to combat all season, in this conference you've seen players like Colt McCoy, and Kyler Murray do that extremely well, and players such as Nic Shimonek, and Garrett Gilbert fall short on that task. The good news for Dekkers is that if he doesn't fumble the ball backwards past the line to gain on 4th down or bat the ball in the air for an easy pick-six he can improve on Purdy's final game. Still, he's following a QB who raised and elevated the profile of Iowa State football, and set new standards Cyclones fans thought they could only dream of, but now Dekkers needs to deal with those expectations. He's got what it takes. He's a dual-threat quarterback, and a four-star, he's already spent two seasons in Ames in the offense. The problem is there are a lot of question marks around him on offense that for a first-year starter may be too much to overcome. I think he'll have a good three years starting for the Cyclones, but I expect this one to be difficult.