Kansas Jayhawks
Big 12 Baseball: Oklahoma Bounces Back While Texas and Oklahoma State Take Series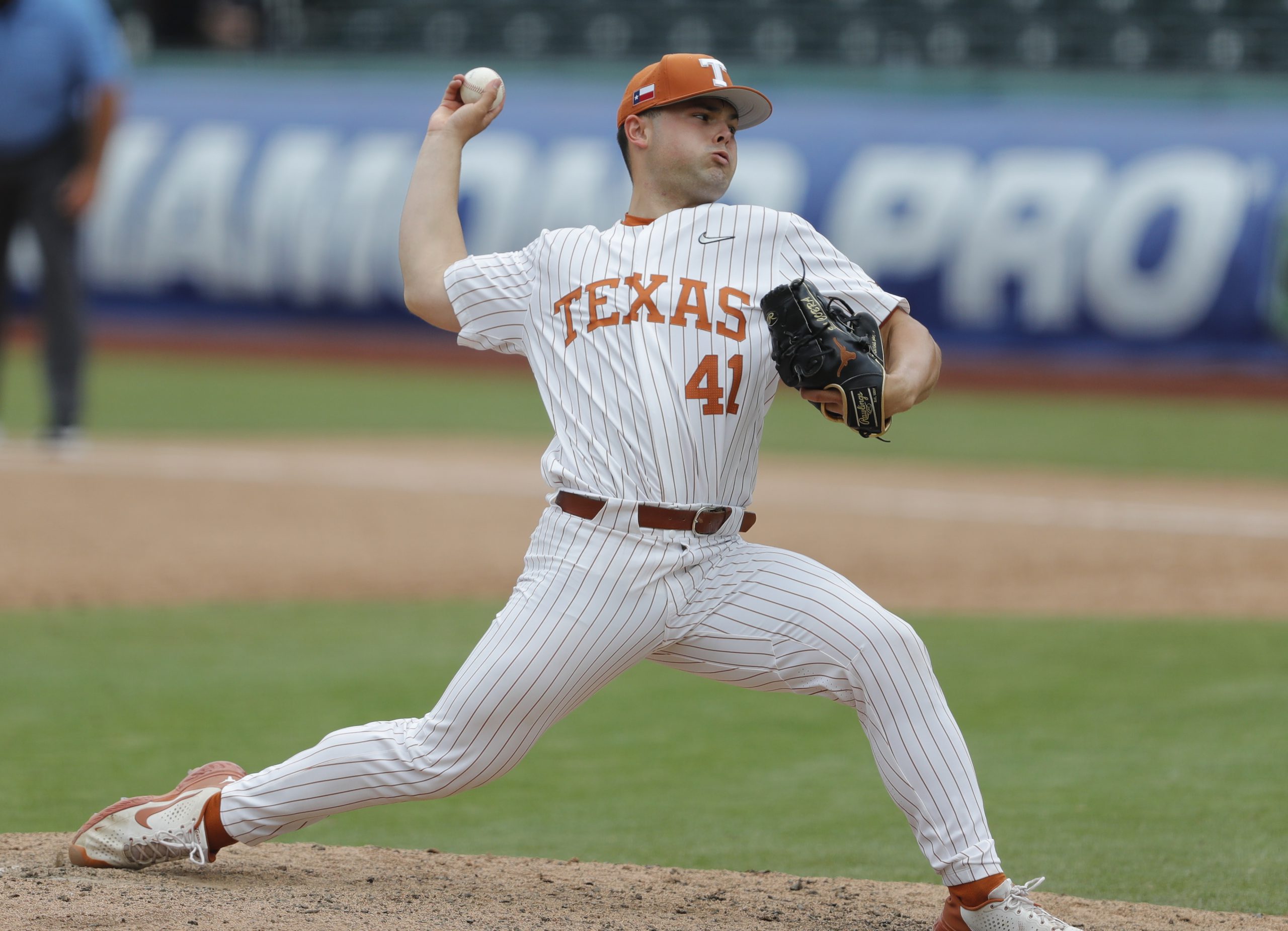 We are in the seventh full weekend of conference play as seven Big 12 teams (sorry Iowa State) are back in action on the diamond this weekend. There are several big-time matchups around the conference and here is what happened in the Big 12 on Saturday
Oklahoma: 11
#24 TCU: 7
Just like on Friday night, the Sooners were the ones who got off to the hot start. Oklahoma racked up a 6-0 lead in the fifth inning as Peyton Graham and Wallace Clark came up with a pair of big hits. TCU would finally get on the board in the same inning as Tommy Sacco went deep but Oklahoma would answer immediately by scoring four runs in the sixth inning. In that inning, Peyton Graham, Jimmy Crooks, and Tanner Tredaway drove in runs to get Oklahoma a 10-2 lead. The Frogs would hit two more home runs thanks to Tommy Sacco and Luke Boyers, but it wasn't enough to complete the comeback. With Oklahoma's win, this series is now tied as the winner will take the weekend on Sunday.
Texas: 5
West Virginia: 2
Due to some severe weather on Friday, these two teams had to play twice on Saturday in a doubleheader. Game one was a pitching duel for the first few innings between Pete Hanson for Texas and West Virginia's Jacob Watters. Jacob ended up striking out fifteen batters on the day but fell apart in the seventh inning. The Longhorns got two runs up after six innings due to homers from Murphy Stehly and Ivan Melendez before a sac-fly and a bases loaded walk helped Texas get a 4-0 lead. That was good enough to carry Texas to a game one victory.
Texas: 11
West Virginia: 0
Game two of the doubleheader was all about the Texas Longhorns. They absolutely crushed the Mountaineers as they run ruled them in seven innings. Texas starting pitcher Lucas Gordon went all seven innings allowing just two hits on the day while the offense had plenty of home runs to back him up. Ivan Melendez hit two home runs while Douglas Hodo III, Trey Faltine, and Austin Todd also hit homers on the evening. It was all about the long ball for Texas and it worked to perfection. With the two wins, Texas takes the series as they look to complete the sweep on Sunday.
Kansas State: 5
Kansas: 2
After getting upset in game one, Kansas State bounced back on Saturday. The Wildcats jumped out to an early 3-0 lead as Dominic Johnson blasted a homer to start things off followed by Jeff Heinrich and Dylan Phillips who drove in a pair of runs. Nolan Metcalf would get Kansas on the board, but Kansas State responded with yet another home run by Dominic Johnson.
Between Johnson's homers and the pitching of Blake Adams, Kansas State was just too much to handle for the Jayhawks as this series is now tied going into Sunday. Also, check out this crowd in Manhattan which was impressive to see.
#3 Oklahoma State: 11
SEMO: 6
This game was full of offense after a low scoring one on Friday night. Southeast Missouri State got on the board first as Jevon Mason hit a solo blast, but the Cowboys quickly answered by scoring three runs in the first inning and a fourth in the second as Zach Ehrhard went deep. The RedHawks would get a few more runs across in the fourth inning but just like earlier in the game, the Cowboys responded with yet another four runs. The two teams would trade a few more runs but it ended up not being all that close as Oklahoma State takes the series in just two games.