Big 12 News
Archie Manning on NIL in College Football: 'It's the Wild West'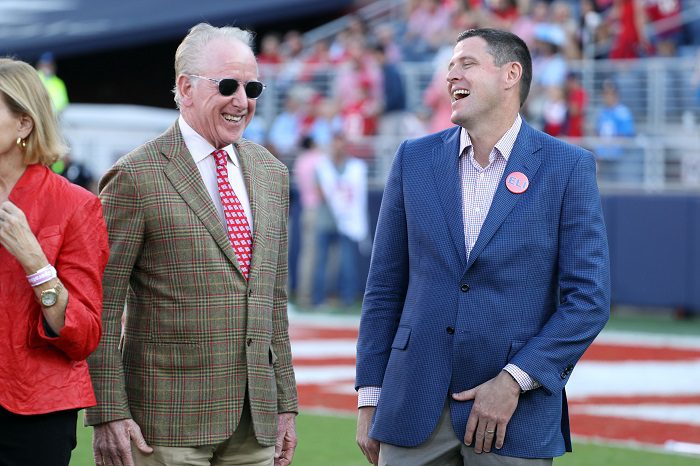 For those of you that have been living under a rock this past year, NIL stands for name, image, and likeness, which, allows college athletes to receive financial compensation through marketing and promotional endeavors. The NCAA had never allowed their student athletes to make money off their name, image, and likeness while profiting millions and millions of dollars off of TV deals. The intent to finally compensate the college athletes for all the money they bring in was there, but the NCAA never envisioned that it would turn into complete pandemonium.
With Arch Manning being arguably the most sought after recruit in college football right now, their probably isn't much he hasn't been offered by schools that continue to salivate over the five-star quarterback. This has led to Arch's grandfather, Archie Manning, father of Peyton and Eli Manning, to speak out on the shifting landscape of college athletics.
On Monday, Archie Manning expressed his dismay regarding NIL, saying, "I can't say I'm crazy about it. I understand it's there. I wish there were a little more uniform in nature throughout the school. It's like the wild, wild west. I do know I love the game of college football and I don't want it ruined."
To give you an idea of the magnitude of these NIL deals, Arch Manning already has a On3 NIL Valuation of $3.1 million before even playing his first college snap. This is eye-opening considering Heisman Trophy winner and Alabama quarterback Bryce Young is tied for second in On3's NIL 100 with Manning.
One thing that helped boost Arch's NIL Valuation was joining social media platform Twitter, adding $1 million to his already seven figure value. This shows that if Manning put some work into his social media presence, he would be set to make some serious cash during his college football career.
The blue-chip prospect has been very low profile during his recruitment process, not allowing any insight into his thoughts on what school will be represented across the front of his jersey. The 6'4, 215-pound quarterback has seven months remaining until National Signing Day, where he will make his decision, and it seems that if the race has been narrowed down to just three schools.
The universities that started out on Arch's mind were Alabama, Clemson, Georgia, Ole Miss, and Texas before seemingly crossing out Clemson and Ole Miss. The strongest contenders to land the prodigy have each received visits this spring, with Arch taking trips to the Crimson Tide, Bulldogs, and Longhorns as he weighs his options.
The national spotlight is on Arch Manning as college football fans patiently wait to know the decision on where the quarterback will take his talents. The class of 2023 recruit will look to follow in the footsteps of his grandfather and both uncles to make the NFL and further solidify the Manning' bloodline.