Baylor Bears
Big 12 Softball Power Rankings: Sooners Dominate Regular Season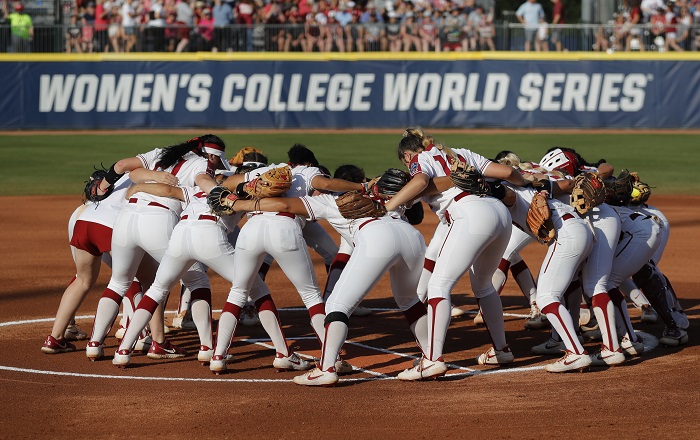 The Big 12 regular season has come and gone, leaving the Big 12 hierarchy almost exactly how we predicted it would finish back in February.
Some wild series were played in this conference throughout the season, including Texas getting its first win over Oklahoma since 2014 a few weeks ago. This past weekend, the Sooners found a way to sweep their in-state rival OSU, extending their home winning streak against the Cowgirls to an astonishing 26 years.
There were also some teams that vastly underachieved in 2022, namely the Iowa State Cyclones. ISU's 27-26 record this season is indicative of the up-and-down season that they had. One week, they would secure a win over a Top 10 Oklahoma State team, and the next they were getting outscored 20-2 by Texas Tech in a two-game stretch. However, they weren't the only team hindered by inconsistency, as you will see later on.
With the Big 12 Championship Tournament just a few days away, here are the Big 12 Softball Power Rankings after the regular season.
After a dominant regular season, the Oklahoma Sooners stand atop the pile with a 48-1 (17-1) record heading into the Big 12 Championship Tournament as the one-seed. A sweep of Oklahoma State to end the schedule was terrific for the Sooners, who are on track to be one of the best teams that college softball has ever seen. The Sooners have been nearly perfect this year, and has won games with stellar pitching, batting, and fielding. It's no coincidence that three of the final 10 players for the USA Softball Player of the Year are Sooners, and goes to show you the star power that this roster has.
Oklahoma State is in the midst of their longest losing streak of the year at five games, but it's not hard to see fault in it. After all, they just played three games agaisnt No. 1 Oklahoma, and the other two games agaisnt No. 4 Florida State, with both series being on the road. I don't imagine this streak will extend any further with Kansas coming up, and I still expect the Big 12 Championship Game to include both Oklahoma teams. Has Oklahoma State lost their chance of hosting through Super Regionals? Not entirely, but they are likely right on the cusp. Expect Kenny Gajewski's squad to be locked in this week.
Texas secured a series win over Baylor this week although it was a very back-and-forth battle from Friday to Sunday. Outside of their loss on Saturday, the Longhorns have looked good since getting swept in Stillwater and are clearly the third-best team in this conference. The one thing holding this team back right now is the lack of an elite arm in the circle, which is what Shea O'Leary was supposed to be coming into 2021. That has held this team back, as Hailey Dolcini has done her best to fill in as the ace, but elite staffs at OU and OSU have been the difference.
The Baylor Bears picked up an impressive 17-3 victory over Texas on Saturday, but it was sandwiched between losses to the Longhorns; a 6-10 loss on Friday and a 0-6 loss on Saturday. The Bears actually outscored UT 23-19 on the weekend but lost the overall series. We likely have seen too little too late from BU, as their season will likely end this week at the Big 12 Championship in OKC, but they have shown the ability to take the best teams in this conference to the wire. Baylor's only chance to make the postseason is to win the conference, and that would take one heck of a run from Glenn Moore's squad.
Iowa State's inconsistencies noted above have been frustrating to watch this season. This team is capable of being so much better than 27-26, but a loss to 16-33 Kansas this weekend encapsulates 2022 for the Cyclones. They have what should be the most competitive (on paper) first-round game against Baylor in this week's tournament and are capable of getting hot and going on a mini-run. Unfortunately, I just don't see it in the cards for this team.
Texas Tech finished its regular season with a three-game sweep at the hands of Texas two weekends ago and lost its head coach Sami Ward in the process.  Now, the Red Raiders, under interim coach Brooke Reed will have to face that same Texas team in the first round of the Big 12 tournament. It wasn't long ago that Texas Tech was 42-16 and Lubbock was a regional site for the NCAA Softball Tournament. However, things have gone way downhill since then and the Red Raiders just never got it going in 2022. Maybe an upset of Texas in the tournament will right some wrongs like it did last season, but I'm not sure we will see that happen this week.
Kansas avoided being swept this week and won their third conference game of the season on Saturday with a 3-2 victory over Iowa State. That victory officially gives KU one more conference win than they had last season and gave the Jayhawks a win over Baylor, Iowa State, and Texas Tech on the year. Now, they will unfortunately face an Oklahoma State team that has lost five straight. Ouch.