Baylor Bears
Former Baylor QB Gerry Bohanon Picks South Florida Over Oklahoma, Missouri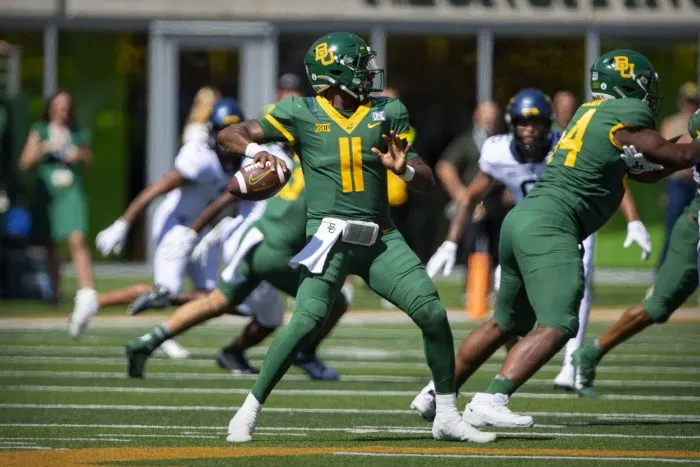 Former Baylor quarterback Gerry Bohanon announced his decision to transfer to South Florida on Sunday, picking the Bulls over the likes of Oklahoma and Missouri.
With two seasons of eligibility remaining, Bohanon should be the starter for USF for the foreseeable future, likely a big reason why he picked the AAC destination.
Before picking USF, Bohanon took a visit to Missouri and also had strong interest from Oklahoma, but ultimately decided that USF was the place for him.
"I picked USF because I believe in that staff, I believe in the culture, I believe in the change that's coming," Bohanon told ESPN in a text message. "I believe in the players, I believe in Tampa. That staff is the staff you want to play for, they're going to give (you) everything they have on and off the field."
According to On3, Bohanon was listed as the top remaining quarterback in the Transfer Portal after a stellar year in 2021 with the Big 12 Champions. After it was revealed the Bohanon had been supplanted by rising sophomore Blake Shapen, a transfer was likely and now it is complete.
In his 2021 campaign, Bohanon completed 191-313 (61.0%) for 2,394 yards, 20 touchdowns, and seven interceptions. He also added 124 rushes for 619 yards and 12 scores on the ground in Baylor's road-grating offense.
It will be interesting to see how Dave Aranda decides to implement his new attack as the Bears' offense will look totally different in 2022. Shapen lacks the rushing prowess of Bohanon, but has better arm talent and precision than his predecessor, making it more likely that we see a heavier passing shame than a year ago. Nonetheless, the Bears are a team to watch in the Big 12 race this season and will likely be one of the favorites to take home the crown.