Big 12 News
As Undrafted Free Agent, Mike Rose is in a Usual Spot as he Begins Life with the Kansas City Chiefs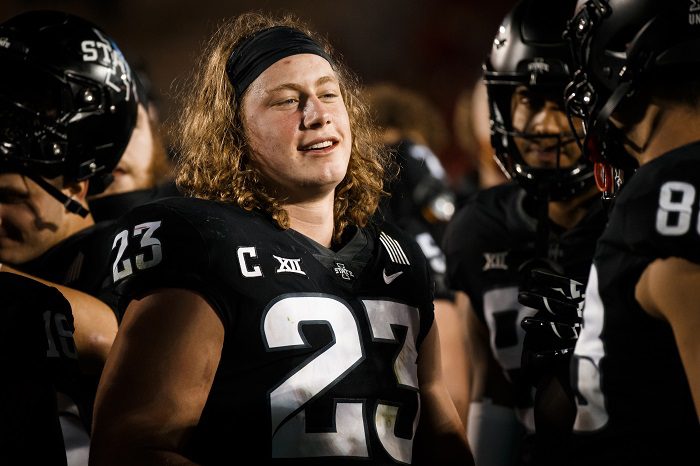 Mike Rose came to Iowa State as an underrecruited prospect from Ohio with other offers from Princeton, Colgate, Lafayette and Air Force.
All great schools, but not exactly where those with NFL aspirations typically end up. Rose turned himself into the 2020 Big 12 Defensive Player of the Year. He finished the season with 81 tackles, which was third-most in the Big 12 Conference. He also was in the Top 10 in the league with 10.0 tackles for loss on the season, plus 1.5 sacks.
Rose was even landing himself in some NFL Mock Drafts as a first round pick one year ago at this time. He had himself another solid season in 2021, but after further evaluation by NFL scouts, Rose was considered a bit unathletic and lacking some quickness, and he ended up going undrafted last week.
However, Rose only had to make the three-hour trip down south to his new home with the Kansas City Chiefs, who he signed with after the NFL Draft wrapped up.
As for being undrafted, this is nothing new for Rose, who is used to that based on his trajectory, saying during his press conference on Monday, "I had to really earn my spot in college. I had a good opportunity in front of me and I took it. This there is a chip on my shoulder, and being counted out, it doesn't feel all too different to me. So there is an opportunity to make this team, which I think there is, I'm going to roll with the chip on my shoulder. I think a lot of people know I can play and just show that day-in and day-out."
His new head coach Andy Reid also added, "You're always looking for a physical player. the best you can, [he's a] big kid. We're trying to be as physical as we possibly can."
Rose is set to try and make the Kansas City Chiefs roster, which feels like the perfect fit for him culturally, but it won't be easy. The Chiefs also spent a third-round draft pick on linebacker Leo Chenal and have taken linebackers on the second-day of each of the past three NFL Drafts.
But for Mike Rose, if you count him out, none of that matters to him or intimidates him. He's used to being counted out. That came with the territory as an individual player, and as a member of an Iowa State team that went from Big 12 afterthought to Big 12 contender in the span of just a few seasons.