Trending Now
Gus Malzahn Believes UCF Football Can 'Win the Whole Thing' After Big 12 Move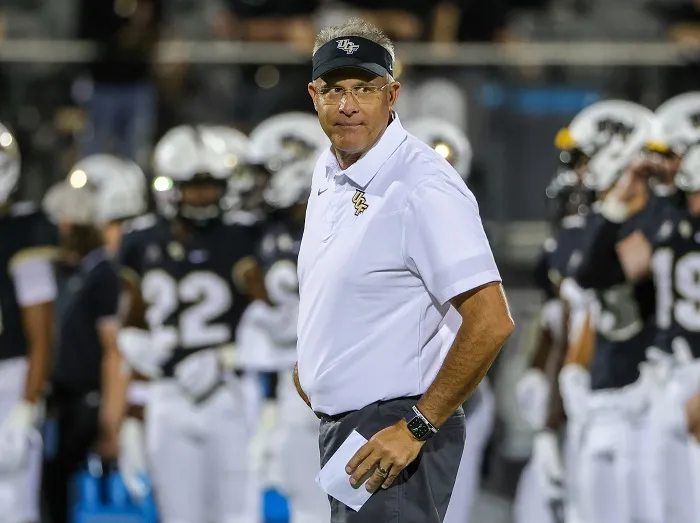 UCF, Cincinnati, and Houston are looking to leave the AAC and join the Big 12 ahead of the 2023 football season, along with the BYU Cougars joining the conference as an independent.
If you have kept up with those four teams over the past few seasons, you'd know that they are coming into this conference to compete right away.
For example, check out each of their records from the 2021 season:
No. 19 BYU (10-3)
No. 4 Cincinnati (13-1)
No. 17 Houston (12-2)
UCF (9-4)
Adding four teams with a combined 2021 record of 44-10? Yeah, that will make the conference even more competitive than it already was last season, and that's exciting if you're a fan of the Big 12.
Fans aren't the only ones excited about it though, as UCF athletic director Terry Mohajir and head coach Guz Malzahn are ready to get things going in the Big 12 as well.
"This is what they've been hoping for, for many years now," Mohajir said. "Hope is not a plan, though."
The Knights are implementing a plan right now that will have them ready to compete immediately when they jump into the Power Five ranks. First and foremost, Malzahn and the Knights need to have a good 2022 season , which Malzahn feels they can do. After all, UCF did win six of their last seven games in 2021, including their 29-17 win in the Gasparilla Bowl over the Florida Gators.
"We've got a chance next year …" Malzahn said last week during the Knights' ChargeOn Tour. "Let's make a run."
After that, Malzahn is preparing a roster that will be ready to compete in the Big 12 right away, using their induction into their new conference as a springboard for recruiting success.
"You can tell a difference," Malzahn said. "That's real-life to recruits, whether I like it or not. It doesn't matter that I think we're a top-25 program, being non-Power Five. But it does to recruits."
UCF's 2022 class ranked No. 41 in the country, making it the highest-ranked class in Knights' history and has the boosters around Orlando getting excited about what the future holds.
"We think we can win the whole thing here," Malzahn said.
"You can tell it's kind of been a long time coming," Malzahn said. "You can just tell when I talk to our fans and our boosters — man, it's an exciting time to be here and be in the moment.
"We've got a chance to really do something special. We've just got to seize the moment and win games."