Baylor Bears
Baylor Women Grab Big Lead at NCAA Golf Stillwater Regional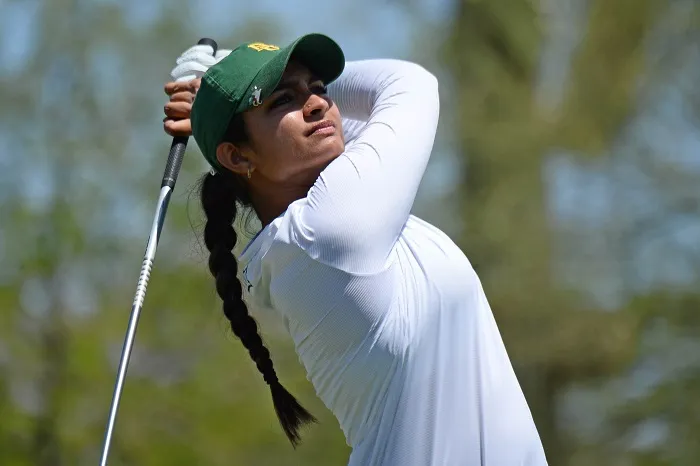 Baylor is cruising toward a berth in the NCAA Women's Golf Championships after taking a 13-shot lead at the Stillwater Regional after Tuesday's second round.
Meanwhile, Oklahoma State is in position to advance, as the Cowgirls are in fourth place in Stillwater. Texas and TCU are both in position to advance at the Albuquerque Regional, while Iowa State and Texas Tech have ground to make up at the Stanford Regional.
The top four teams from each regional will advance to the NCAA Championships at Grayhawk Golf Club in Scottsdale, Arizona, from May 20-25.
The final round of regionals is Wednesday.
Baylor improved by three shots over Monday's first-round score to finish 1-over-par after 36 holes with a team score of 577. Arizona State is second at 14-over-par, while Clemson is third at 17-over-par.
Oklahoma State is in fourth place at 18-over-par, which would allow them to advance. But Michigan State is a shot back at 19-over-par.
Gurleen Kaur surged into the lead individually with a second-round 67, putting her at 142 after 36 holes. Her teammates, Britta Snyder and Rosie Belsham are tied for second overall with a two-round total of 143. Snyder shot a 74 and Belsham shot a 71 on Tuesday. Addie Baggarly shot a second-round 73 to finish with a 36-hole score of 149, while Hannah Karg shot a 75 for a two-round total of 155.
Oklahoma State's Maddison Hinson-Tolchard is tied for second individually after a second-round 71 to finish at 143. Rina Tatematsu is at 148 after a second-round 74, while Han-Hsuan Yu is at 150 after a second-round 76. Lianna Bailey shot an 81 for a two-round total of 157, while Hailey Jones shot a 77 for a two-round total of 159.
In Albuquerque, Texas shot a 2-over-par 290 as a team on Tuesday, as the Longhorns fell one place to third with a 1-over-par 577. Oregon is well ahead of the field, as the Ducks are at 8-under-par 568, while Georgia is second, a shot ahead of Texas at even-par 576. TCU is six shots back of Texas after a second-round 3-over-par 291, which left TCU at 7-over-par 583. The Horned Frogs are a shot ahead of Florida (8-over-par) and four shots ahead of Arizona and Sam Houston (12-over-par). Oklahoma is 26-over-par and in ninth place after two rounds.
Bentley Cotton is tied for sixth overall after her second-round 75 left her at 143 after 36 holes. After that, Sara Kouskova and Sophie Guo are both tied for 12th after they finished with a 36-hole score of 145. Guo shot a 71 while Kouskova shot a 72. Bohyun Park shot a 72 for a two-round total of 148, while Briggite Thibault shot a 78 for a two-round total of 150.
TCU has two players in the Top 10. Sabrina Iqbal is tied for fourth after shooting a 73 for a two-round total of 141, while Caitlyn Macnab is tied for sixth after shooting a 71 for a two-round total of 143. Lois Lau shot a 71 for a two-round total of 148, while Valeria Pacheco shot a 76 for a two-round total of 152. Trinity King rounded out TCU's scoring with a 77 for a two-round total of 153.
Oklahoma has ground to make up to advance. The Sooners included Hannah Screen (71-74-145), Mikhaela Fortuna (76-75-151), Libby Winans (75-77-152), Maria Fernanda Martinez (77-78-155) and Meagan Winans (79-77-156).
Iowa State is in sixth place at the Stanford Regional, five shots out of fourth place, which would allow the Cyclones to advance. USC leads the regional, followed by Stanford, LSU and Purdue and Northwestern, the last two of which are tied for fourth.
The Cyclones shot a 294 on Tuesday, for a two-round total of 581. Their players included Ruby Chou (68-73-141), Taglao Jeeravivitaporn (71-71-142), Liyana Durisic (74-74-148), Warda Rawof (74-76-150) and Charley Jacobs (83-77-160).
Texas Tech is in ninth place after two rounds at 19-over-par 587 after shooting a 292 as a team. The Lady Raiders are 11 shots back of fourth place. Their players include Amy Taylor (73-70-143), Gala Dumez (72-75-147), Anna Dong (76-71-147), Chiara Horder (74-78-152) and Cecilie Nielsen (76-76-152).
Follow Matthew Postins on Twitter @PostinsPostcard