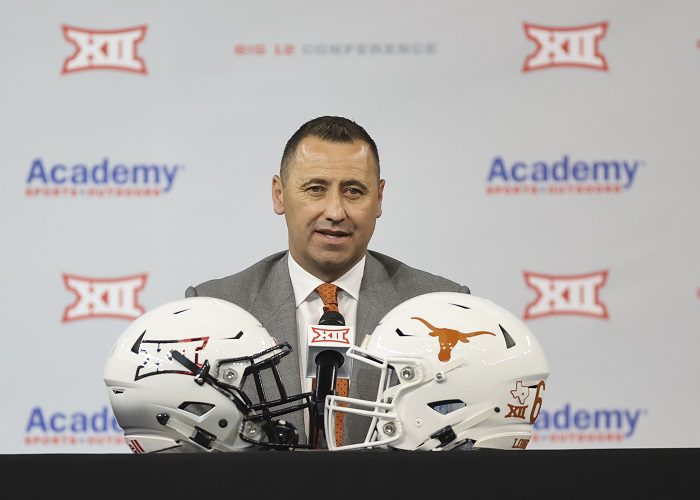 With spring football in the books, we are now officially in offseason mode across college football. Of course, recruiting never sleeps but we also scroll through our phones and countless web sites to scratch that itch that is college football.
As we desperately look for anything college football related we can get our hands on, we tend to find all sorts of things. Whether it is someone coming up with a Top 10 list or a preseason Top 25, there are plenty of bad takes to go around. Sometimes the jokes just write themselves in the world of college football and that is where I step in to voice my opinion.
On Monday, I just so happened to be scrolling mindlessly through Twitter to see this.
To be fair, I did watch the entire video and I am a little bit torn on this take. On one hand, I agree with everything Anwar Richardson of Orangebloods said. Texas has deep pockets. Everyone around the sport knows that because that is all Texas really has to brag about at this point and time.
Flaunt It
The University of Texas has more money than any other athletic program in the country. With NIL playing a role in getting the top players, the schools with the deepest pockets should be the ones feasting on those five-star recruits. That means Texas should always be one of the top schools when it comes to recruiting each and every single year.
What Anwar said was correct. Texas SHOULD embrace being the school who shells out top dollar to players when it comes to NIL. When you have the money, use it because that is the one big advantage you have over other schools. Forget about hundred-dollar handshakes. Texas should have the attitude of, "If you want to make the big bucks, you come here." It should be telling players, "Whenever you get to the NFL you will be taking a pay cut." If you got it, flaunt it, and that is what should be going on in Austin. No more tip-toeing around. There's no need to feel your way into it because Texas should be diving headfirst and using money to its advantage.
No Guarantees
On the flipside, while having all this money is great, it doesn't guarantee success on the field. In fact, even with Top 10 recruiting classes over the years, Texas has still struggled. In the video, Anwar explains that Texas should embrace being the New York Yankees of college football. While I do agree with the take, I do find it funny. For starters, the New York Yankees have 27 World Series titles. Texas has a total of four national championships. That's like comparing a person with a million dollars to someone with a billion dollars. It just isn't a comparison.
Now there are a lot of similarities when it comes to results over the last 10 years or so. Since 2009, neither the New York Yankees nor the Texas Longhorns have played for a title. The Yankees seem to spend the most money every year and have nothing to show for it the last decade. The same can be said about Texas on the football field. They always seem to have one of the best recruiting classes, yet they haven't won a conference title since 2009 and have had four seasons without a bowl appearance. Texas is on its fourth coach since its last title appearance, and the Longhorns continue to be the butt of all jokes around college football. And if you disagree with that, then I will just remind you of what happened when they played Kansas last year.
At the end of the day, I get what Anwar was saying. I fully understand the point he was trying to get across. Texas needs to be that program that sets the bar when it comes to getting athletes paid. Stop trying to be someone else and start putting your money where your mouth is. Of course, nothing is guaranteed and maybe it doesn't work out, but it shouldn't be because they didn't go all in. The biggest question I have is who wins a title first? The New York Yankees or the Texas Longhorns? As much as I hate to say it due to my hatred for the Yankees, I would have to lean with the guys in pinstripes.