Big 12 News
Transfer Portal, NBA Early Entries Unkind to Iowa State Basketball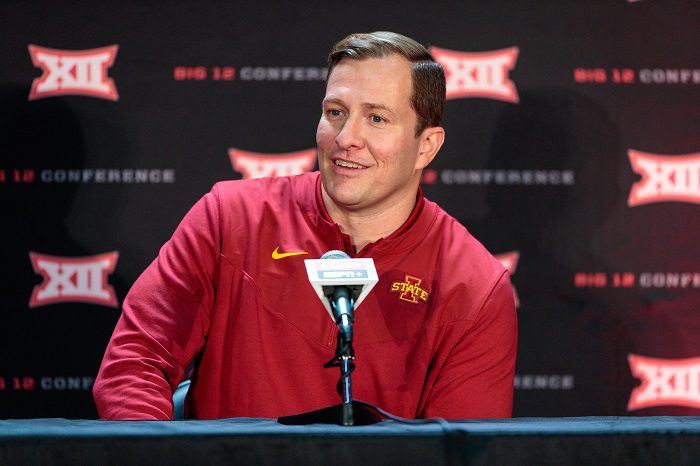 Iowa State's Cinderella-like run to the Sweet 16 has been followed by a free-fall through the transfer portal and early-entry to the NBA.
The Cyclones probably expected to lose guard Izaiah Brockington to the NBA Draft, and they did. Forward George Conditt IV was with the program for four years before departing to take his shot at the NBA, too.
But the transfer portal has been a rough place for the Cyclones, and that started before the season. The Cyclones lost center Xavier Foster, forward Blake Hinson and forward Javan Johnson before the season tipped off.
After the season ended, the Cyclones also lost forward Tristan Enaruna, guard Tre Jackson and guard Jaden Walker.
The player the Cyclones didn't expect to lose was guard Tyrese Hunter, who was the Big 12 Freshman of the Year and appeared poised to be the Cyclones' scoring leader in 2022-23. Hunter will announce his transfer decision soon.
But his departure means that guard Gabe Kalscheur is the program's leading returning scorer for next season, and Kalscheur only averaged about 10 points per game.
So, with just five returning players, head coach T.J. Otzelberger has worked the transfer portal once again, having signed four players since the season ended.
St. Bonaventure guard Jaren Holmes could be a ready replacement for Hunter, as he averaged 13.5 points and 3.6 assists per game. Virginia Commonwealth forward Hason Ward wasn't a big scorer last season, but he did block 1.5 shots per game. Temple guard Jeremiah Williams averaged 9.5 points and 4.3 assists per game last season.
The fourth transfer is one the Cyclones took in as the season started, Eastern Kentucky forward Tre King. He averaged 14.9 points, 6.2 rebounds, 1.5 steals and 1.2 blocks per game for the Colonels in 2020-21 season.
The Cyclones have three recruits coming in for 2022, the first full recruiting class for Otzelberger. While they're all three-star recruits, per 247Sports.com, all three are also considered Top 200-ranked players. The prize is a local product, guard Tamin Lipsey, the second-highest ranked player in the state of Iowa.
The Cyclones may not be done, either. Based on what's coming back and what's coming in, the Cyclones may have two more scholarships to give for next season. They could spend that capital on a Class of 2022 recruit or on a transfer that could help them immediately, or both.
One thing seems pretty clear. For the second straight season the Cyclones are going to look at lot different than the previous season.
Iowa State Men's Basketball Roster Update for 2022-23
Returning for 2022-23 (4): G Caleb Grill, F Aljaz Kunc, F Robert Jones, G Gabe Kalscheur.
Early NBA Entries (2): G Izaiah Brockington, F George Conditt IV.
Cyclones in transfer portal (7): F Tristan Enaruna (Cleveland State) C Xavier Foster (SMU), F Blake Hinson (Pittsburgh), G Tyrese Hunter, G Tre Jackson (Western Carolina), F Javan Johnson (DePaul), G Jaden Walker (East Carolina)
Transfers entering program (4): G Jaren Holmes (St. Bonaventure), F Tre King (Georgetown), F Hason Ward (VCU), G Jeremiah Williams (Temple).
Class of 2022 Signees (3): G Eli King (6-foot-3, Caledonia, Minn.), G Tamin Lipsey (6-foot-2, Ames, Iowa), Demarion Watson (6-foot-7, Totino-Grace High School, Maple Grove, Minn.).
Projected starting lineup: G Gabe Kalscheur, G Jaren Holmes, G Jeremiah Williams, F Tre King, F Aljaz Kunc.
Projected primary bench: G Caleb Grill, F Robert Jones, F Hason Ward, G Tamin Lipsey.
*-Recovering from injuries