featured
Kenny Gajewski on Chelsea Alexander Stealing Home: 'That Was All Her'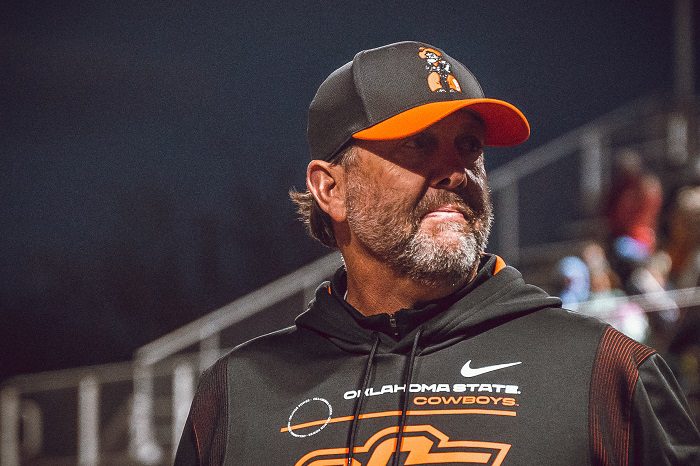 Oklahoma State needed just one run to defeat Kansas in their opening round contest of the Big 12 Softball Championship, but an insurance run made it much easier for the Cowgirls to breath as the innings dragged on.
Undoubtedly, the play of the game for OSU was in the bottom of the fifth when Cheyenne Factor hit a sac fly to right field, allowing Kylie Naomi to score and get the Cowgirls on the board. However, it was what happened after Naomi scored that made the difference in the game.
As the dust settled around home plate and Kansas' catcher took her glove off to reset for the next play, fifth-year senior Chelsea Alexander saw her chance.
"You're always looking to score," Alexander said in postgame media availability. "As soon as I saw the pitcher turn her back, [and] the catcher took her mitt off, I just went. I was already kind of inching towards home, so that was my green light to full send and take it."
"That was all her," head coach Kenny Gajewski said when asked about the play. "I tell them to keep their head up and pay attention, and when she didn't go back and then took off, I was like 'uh oh.'"
Almost immediately, smiling at her coach, Alexander was quick to explain that she had everything under control in the moment.
"He started to walk up to me and then I felt him back off when he saw what I was doing," Alexander laughed. " I was like 'thank you, give me my room [to work].'"
Alexander knows what is at stake at this point in the season, and knew that she needed to make a play for her team in that moment.
"We're in a tough part of our season," Alexander said. "Once you get to postseason, every game is a big game so you're just chipping away and fighting for what you can get.
"We know that runs are big, it doesn't matter who we are playing… I'm just doing what I can to help this team."
The win over Kansas ended a five-game skid for the Cowgirls, something that Coach Gajewski is glad to have behind him.
"Everybody looks at our last five games, and we do too," he said. " [Kansas] wasn't a must win game, we're a postseason team, but if we want to do the things that we want to do, we need to get back back on the winning side."