Baylor Bears
CBS Sports Lists Baylor as 2022 CFB Playoff Dark Horse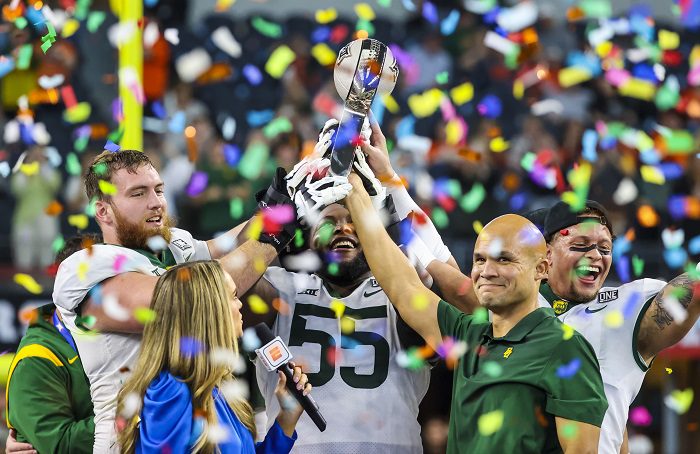 CBS Sports' Shehan Jeyarajah recently released a list of teams from each of the Power Five conferences whom he believes to be dark horse for the College Football Playoff.
In this list, Jeyarajah limits the scope of "dark horse" contenders by excluding teams with 50-1 or better odds, a total of 14 teams.
After narrowing down the list, CBS included teams like NC State (150-1), Penn State (75-1), Washington (200-1), and Arkansas (125-1), the Baylor Bears were the pick for the Big 12, coming in at 60-1 odds.
Here is what Jeyarajah had to say about the Bears and thier CFP chances in the upcoming 2022 football season.
"The Bears are defending Big 12 champions, but their 60-1 odds still push them outside of the top 15 of national championship odds. Despite losing six players to the NFL Draft, Baylor still has an intriguing shot to make its first College Football Playoff. 
"Baylor boasts the Big 12's best trenches on both sides of the ball with four offensive linemen and every defensive lineman back. The Bears also added intriguing interior lineman Jaxon Player from Tulsa to bolster the unit next to future NFL Draft pick Siaki Ika at nose tackle. 
"The big question about Baylor taking the step comes at quarterback. The Bears elevated sophomore Blake Shapen to the starting job after Gerry Bohanon led the most successful team in program history. While Bohanon was solid, Shapen brings a new level of upside that could prove useful with Oklahoma and BYU on the schedule."
If the Bears can build on the year that they had in 2021, and take another step forward at quarterback under Blake Shapen, there's no reason to think that the Bears can't crack the top four by the end of the year.