Big 12 News
Oklahoma, Oklahoma State Lead NCAA Men's Golf Regionals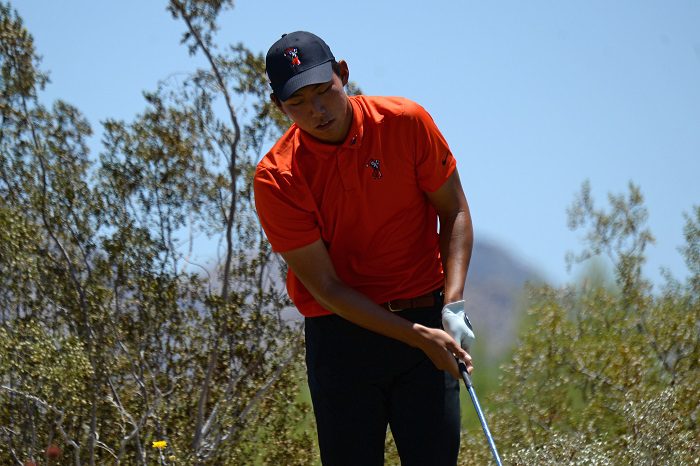 Oklahoma and Oklahoma State lead their respective regionals after one round of the NCAA men's golf regionals on Monday.
While the Sooners and Cowboys are in good position to advance, Texas and Texas Tech are in the Top 5 at their regionals, which would position them to advance to the NCAA Championships. Kansas is two spots out of the Top 5, while Kansas State is well back of the field at its regional.
Both Oklahoma and Oklahoma State were No. 1 seeds in their respective regionals.
The low five teams and the low individual not on those five qualifying teams will advance to the NCAA Championships on May 27-June 1 at Grayhawk Golf Club in Scottsdale, Arizona.
Oklahoma State leads the pack at the Columbus Regional after the first round, as the Cowboys were the only team to finish under-par. The Cowboys' 4-under-par 280 at Ohio State's Scarlet Course gave them a six-shot lead over East Tennessee State.
San Francisco was third, Clemson was fourth and Ohio State was fifth.
The Cowboys are seeking their sixth straight regional title and have won a national-best 15 regional titles.
All five Cowboys are in the Top 15 after one round, led by Eugenio Lopez-Chacarra's 69, which left him tied for second at 2-under-par. Bo Jin and Aman Gupta each shot a 70, while Jonas Baumgartner fired a 71 and Brian Stark shot a 72.
Oklahoma has a one-shot lead after the first round at Jimmie Austin OU Golf Club in the Norman Regional. The Sooners shot 11-under-par 277 as a team, with South Carolina right behind them at 10-under-par.
Texas finished fifth after a first-round 6-under 282, while Kansas State probably shot itself out of the tournament with a 14-over-par 302.
Oklahoma's Drew Goodman is in a tie for third after a 5-under par 72. He was followed by Patrick Welsh at 69, Chris Gotterup at 70, Logan McAllister at 71 and Stephen Campbell Jr. at 74.
Travis Vick is also tied for third after a 67 to leads Texas. Cole Hammer had a 71, while Parker Coody shot 72, Mason Nome shot 72 and Pierceson Coody shot 73.
Tim Tillmanns and Nicklaus Mason led Kansas State with a 74, while Will Hopkins shot a 75. Laurenz Shiergen and Luke O'Neill each shot a 79.
Baylor's Johnny Keefer shot a 69 to finish in a tie for fifth individually.
Kansas is in seventh place at the Bryan Regional after an opening round of 1-over-par 289. The Jayhawks are five shots out of fifth place. Arizona leads the field, followed by defending national champion Pepperdine and Texas A&M.
William Duquette led the Jayhawks with a 70, followed by Harry Hillier's 72, Luke Kluver's 73, Ben Sigel's 74 and Callum Bruce's 79.
TCU's Justin Gums and Aymeric Laussot shot a 70 and 71, respectively, and are in the Top 20 after one round.
Texas Tech is in fourth place after one round at the Yale Regional. Collectively, the Red Raiders shot 9-under par and are four shots out of the lead behind Wake Forest and North Florida, both of which shot 13-under-par. Georgia Southern is third at 10-under-par, while North Carolina and Illinois are tied for fifth at 7-under-par.
Ludvig Aberg, who won the Big 12's individual title, had the Red Raiders' best round of the day with a 5-under-par 65 at Yale's New Haven Course. He's tied for second overall with several players. Illinois' Piercen Hunt is leading the pack with a 6-under-par 64 after the first day.
All four Red Raiders' scores were at even par or better — Baard Skogen and Calum Scott each with a 68, while Carl Didrik Meen Fosaas shot a 70.
NCAA Regional Golf Results (Round 1)
Columbus Regional
Oklahoma State (4-under-par 280, first place)
Oklahoma State: Eugenio Lopez-Chacarra (69), Bo Jin (70), Aman Gupta (70), Jonas Baumgartner (71), Brian Stark (72).
Norman Regional
Oklahoma (11-under-par 277, first place), Texas (6-under-par 282, fifth place), Kansas State (14-over-par, 302, 11th place)
Oklahoma: Drew Goodman (67), Patrick Welch (69), Chris Gotterup (70), Logan McAllister (71), Stephen Campbell Jr. (74).
Texas: Travis Vick (67), Cole Hammer (71), Parker Coody (72), Mason Nome (72), Pierceson Coody (73).
Kansas State: Tim Tillmanns (74), Nicklaus Mason (74), Will Hopkins (75), Laurenz Schiergen (79), Luke O'Neill (79).
Baylor: Johnny Keefer (69, tied for fifth) – playing as individual.
Bryan Regional
Kansas (1-over-par 289, seventh place)
Kansas: William Duquette (70), Harry Hillier (72), Luke Kluver (73), Ben Sigel (74), Callum Bruce (79),
TCU: Justin Gums (70, tied for 11th), Aymeric Laussot (71, tied for 16th). – playing as individuals.
New Haven Regional
Texas Tech (9-under-par 271, fourth place)
Texas Tech: Ludvig Aberg (65), Baard Skogen (68), Calum Scott (68), Carl Didrik Meen Fosaas (70), Andy Lopez (72).
Follow Matthew Postins on Twitter @PostinsPostcard