Trending Now
Paul Finebaum Calls ACC a 'Diminished Conference'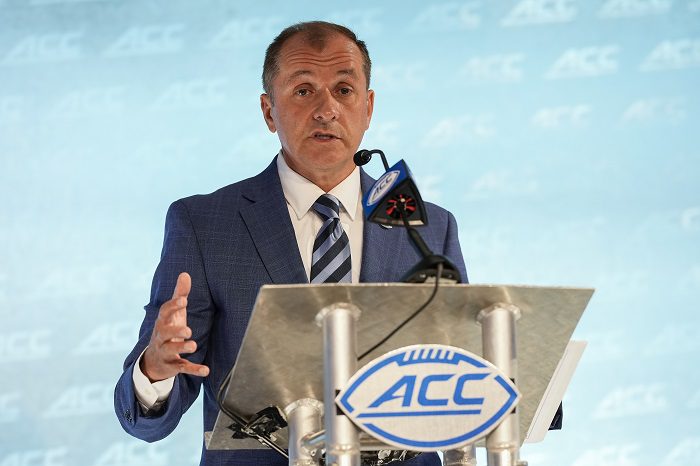 There have been rumors flying around that the Power Five could break away from the NCAA and govern themselves moving forward. Then, last week, ACC commissioner Jim Phillips told basketball coaches that this would not happen, according to a Brandon Marcello tweet.
For now, it seems that the marriage between the Power Five and the NCAA will remain intact if you ask the ACC. However, ESPN personality Paul Finebaum has some major questions about the staying power of the ACC, especially when they are stacked up against the Big Ten and the SEC. He discussed his opinion of Phillips' comments on the future of the Power Five.
"I put very little weight into any of it because the ACC has become such a diminished conference," Finebaum said on McElroy and Cubelic in the Morning. "I say that because it wasn't long ago when they were nipping, pretty far back, but they were still nipping at the heels of the SEC and the Big Ten, especially because of Clemson. But now, it's been marginalized.
"It's been marginalized for a lot of reasons, but the biggest is that their television contract, which has a long way to go, I think another ten years before it opens back up again, is about to become significantly behind everyone else that matters which is the Big Ten and the SEC. And I say that because the SEC's deal is done, everybody knows that. The Big Ten is about to sign a mega, multi-billion dollar deal. There was a time where everybody was reasonably close, but the ACC is going to be so far behind that it's going to affect them."
Finebaum then went on to question ACC commissioner Jim Phillips for his leadership and the direction that he is taking his conference.
"I also question the leadership of the ACC and Jim Phillips," said Finebaum. "I'm surprised by this because he was really a great athletic director at Northwestern. But he has led the ACC down a very dark and dangerous road by getting in bed with the Big Ten and the Pac-12 on this alliance. Now I know the question had to do with them talking about divisions and other things, but that's the state of college athletics.
"Really whatever the ACC says is great, but it's really more their position in the sphere of college athletics that concerns me the most."