Big 12 News
2022 Matchup Between Alabama, Texas to Broadcast on FOX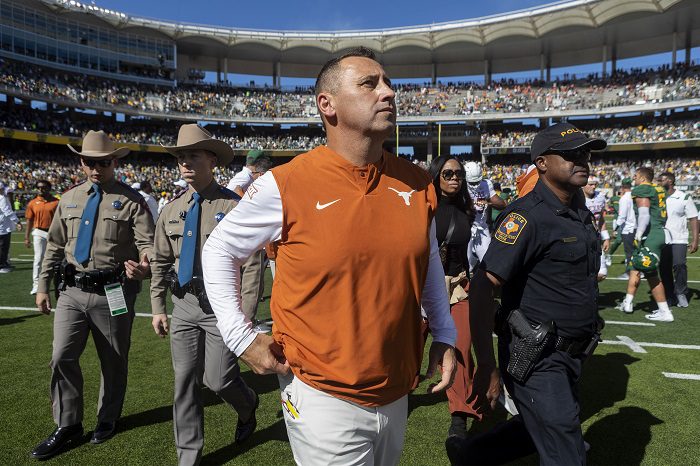 The 2022 college football season is chock-full of enticing nonconference matchups for the Big 12 (and future Big 12).
In Week 1, we have the new installment of the Backyard Brawl, a bitter rivalry between West Virginia and Pitt which dates back to 1902 when the two teams first met. Also in Week 1, we will see the Cincinnati Bearcats and Arkansas Razorbacks go at it, likely a matchup of Top 25 teams.
The list is quite impressive in Week 2: BYU v. Baylor (Week 2), Oklahoma State v. Arizona State (Week 2), Iowa v. Iowa State (Week 2) and then there is one that jumps off the page. Texas vs. Alabama.
Sure, the Longhorns have been down in recent years, but it is undeniable that two brands like Alabama and Texas meeting in the regular season will be quite a spectacle. That is why FOX official should be ecstatic about the news concerning the matchup.
FOX announced that it has landed the right to broadcast the matchup between the Crimson Tide and the Longhorns on September 10. The game is set to take place at Darrell K Royal Texas Memorial Stadium in Austin, and a kick time has yet to be announced.
It is worth noting that FOX has had the propensity to air it's biggest matchups during the 11:00 a.m. window.
Both programs come into 2022 with high expectations, as the Tide are viewed as a lock to make the College Football Playoff, while the Longhorns are being billed as a dark horse contender with several key additions via the transfer portal and the class of 2022.
This matchup will likely set the table for what each team has in store nest season and will certainly be one to watch, even if it is at 11:00 a.m.