Big 12 News
Oklahoma State Tied For Second-Round Lead At NCAA Golf Regional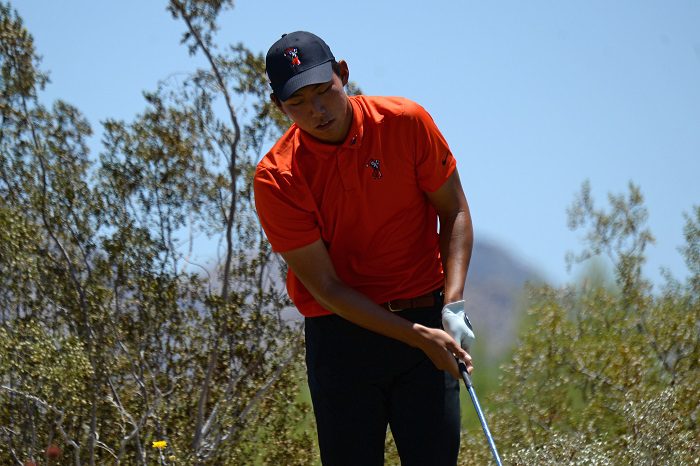 The Oklahoma State Cowboys are in a tie for the overall lead after the second round of NCAA Men's Golf Regional Action on Tuesday.
While Oklahoma lost its lead at the Norman Regional, the Sooners are still in good position to advance to the NCAA Championships. Texas and Texas Tech are still in the top five, and Kansas is knocking on the door of advancing.
The low five teams and the low individual not on those five qualifying teams will advance to the NCAA Championships on May 27-June 1 at Grayhawk Golf Club in Scottsdale, Arizona.
All five Oklahoma State Cowboys are in the Top 14 after the second round at the Columbus Regional, led by Eugenio Lopez-Chacarra. He posted a 69 for the second straight round and is first place with a two-round total of 138. Aman Gupta and Jonas Baumgartner are three shots back at 141 and are tied for sixth.
But, Georgia Tech moved into a tie with the Cowboys at 7-under-par for the tournament. It's a two-horse race for the overall title, as Ohio State is in third place and 6-over-par.
The Cowboys are seeking their sixth straight regional title and have won a national-best 15 regional titles.
Oklahoma fell out of the lead on Tuesday but is still 14-under-par for the tournament and six shots behind Auburn. The Tigers shot a remarkable 12-under-par on Tuesday while the Sooners shot just 3-under-par.
Texas is in a tie for third with Ole Miss at 8-under-par, while Kansas State is well back of the pack in a tie for ninth at 14-over-par.
Drew Goodman is the top Sooner after two rounds with a 140, which has him tied for sixth. Chris Gotterup, Logan McAllister and Patrick Welch are all tied for eighth with a 141.
Travis Vick leads Texas and the tournament with a 134 as he shot his second straight 67. No other Longhorns are in the Top 10.
Kansas State's Tim Tillmanns is setting himself up for potential advancement as an individual with a two-day total of 141, which has him in a tie for eighth.
Baylor's Johnny Keefer shot a 75 on Tuesday to drop into a tie for 19th and a two-round total of 144.
Kansas moved up to sixth place at the Bryan Regional and is even-par 576 for the event. The Jayhawks are one shot behind Oregon State, which is in fifth place. Arizona leads the field, followed by Georgia, Texas A&M and defending national champion Pepperdine.
William Duquette continued his fine play for the Jayhawks, following up a first-round 70 with a second-round 71. His 141 has him in a tie for 10th with one round remaining.
Texas Tech is in fifth place after two rounds at the New Haven Regional. Collectively, the Red Raiders are 10-under par and are five shots ahead of sixth-place Illinois.
Ludvig Aberg, who won the Big 12's individual title, is tied for sixth after two rounds with a 136.
NCAA Regional Golf Results (Round 2)
Columbus Regional
Oklahoma State (7-under-par 561, tied for first place)
Oklahoma State: Eugenio Lopez-Chacarra (69-69—138), Aman Gupta (70-71—141), Jonas Baumgartner (71-70—141), Brian Stark (72-71‑43), Bo Jin (70-73—143)
Norman Regional
Oklahoma (14-under-par 562, second place), Texas (8-under-par 568, tied for third place), Kansas State (14-over-par, 590, tied for ninth place)
Oklahoma: Drew Goodman (67-73—140), Chris Gotterup (70-71—141), Logan McAllister (71-70—141), Patrick Welch (69-72—141), Stephen Campbell Jr. (74-72—146).
Texas: Travis Vick (67-67—134), Mason Nome (72-72—144), Pierceson Coody (73-72—145), Parker Coody (72-75—147), Cole Hammer (71-77‑148).
Kansas State: Tim Tillmanns (74-67—141), Will Hopkins (75-73—148), Nicklaus Mason (74-73‑148), Laurenz Schiergen (79-74—153), Luke O'Neill (79-75—154).
Baylor: Johnny Keefer (69-75‑144, tied for 19th) – playing as individual.
Bryan Regional
Kansas (even-par 576, sixth place)
Kansas: William Duquette (70-71—141), Harry Hillier (72-71—143), Ben Sigel (74-74—148), Luke Kluver (73-77—150), Callum Bruce (79, first round), Davis Cooper (71, second round)
TCU: Justin Gums (70-74—144, tied for 21th), Aymeric Laussot (71-73—144, tied for 21th). – playing as individuals.
New Haven Regional
Texas Tech (10-under-par 550, fifth place)
Texas Tech: Ludvig Aberg (65-71—136), Baard Skogen (68-70‑138), Calum Scott (68-72‑140), Andy Lopez (72-68‑140), Carl Didrik Meen Fosaas (70-70‑140).
Follow Matthew Postins on Twitter @PostinsPostcard