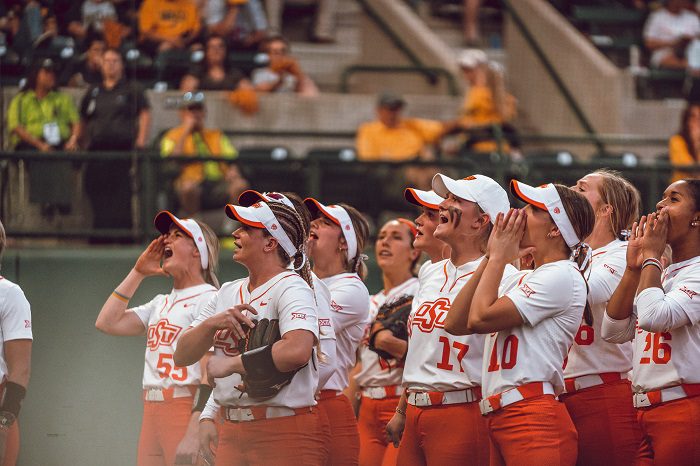 The Oklahoma State Cowgirls were selected as the No. 7 overall seed in the 2022 NCAA Division I Softball Championship and will host a Regional and Super Regional at Cowgirl Stadium in Stillwater, Oklahoma over the next two weekends.
This weekend, from May 20-22, Oklahoma State will host North Texas, Nebraska, and Fordham, playing the Fordham Rams on Friday at 7:30 p.m. CT on ESPN+.
Here is what you need to know ahead of the Stillwater Regional.
TALE OF THE TAPE
Oklahoma State (41-12, 14-4 Big 12) – Oklahoma State claimed the No. 7 overall seed after winning Big 12 Tournament Title in Oklahoma City last weekend, capping off their run with a 4-3 victory over Oklahoma in eight innings. The Cowgirls played some of their best softball over their last two contests and look primed to make a WCWS run.
Fordham (30-20, 15-7 A10) – The Rams secured a spot in the NCAA tournament after upsetting George Washington in the Atlantic 10 Championship. Fordham was theThis is Fordham's 10th appearance in the NCAA Regionals.
Nebraska (40-14, 17-5 Big Ten) – Nebraska is fresh off of their first Big Ten Tournament championship in school history, securing the title with a 3-1 win over Michigan. The Cornhuskers were 3-0 against Michigan on the year, as well as going 2-0 against Wichita State and and 3-0 against Minnesota, all teams in the NCAA Tournament field.
North Texas (35-14, 17-7 C-USA) – North Texas claimed their first Conference USA Championship in school history after running through Charlotte (6-3), Louisiana Tech (11-1 5 Inn.), and WKU (9-0 5 Inn.) in the C-USA tournament. This is North Texas' first NCAA regional appearance in program history.
REGIONAL SCHEDULE
FRIDAY, MAY 20
Game 1 – North Texas vs. Nebraska – 5:00 p.m. CT (ESPN+)
Game 2 – Fordham vs. Oklahoma State – 7:30 p.m. CT (ESPN+)
SATURDAY, MAY 21
Game 3 – Winner G1 vs. Winner G2 – 1:00 p.m. CT
Game 4 – Loser G1 vs. Loser G2 – 3:30 p.m. CT
Game 5 – Winner G4 vs. Loser G3 – 6:00 p.m. CT
SUNDAY, MAY 22
Game 6 – Winner G3 vs. Winner G5 – 3:00 p.m. CT
Game 7 – Winner G6 vs. Loser G6 (if necessary) – 5:30 p.m. CT
ONE THING TO WATCH
Oklahoma State's pitching staff seemed to take it to another level in the Big 12 Tournament, as Kelly Maxwell and Morgan Day both displayed some of their best work over the weekend. That duo, plus the addition of Miranda Elish when she can reenter the circle, gives OSU a one of the top staffs in the postseason. The Big Ten Tournament Champion and the Big 12 Tournament Champion appear to be on a crash course here, and will provide one of the most intriguing Regional matchups of the year if they do meet.