Trending Now
2022 NCAA Softball Regionals Predictions: Tallahassee Regional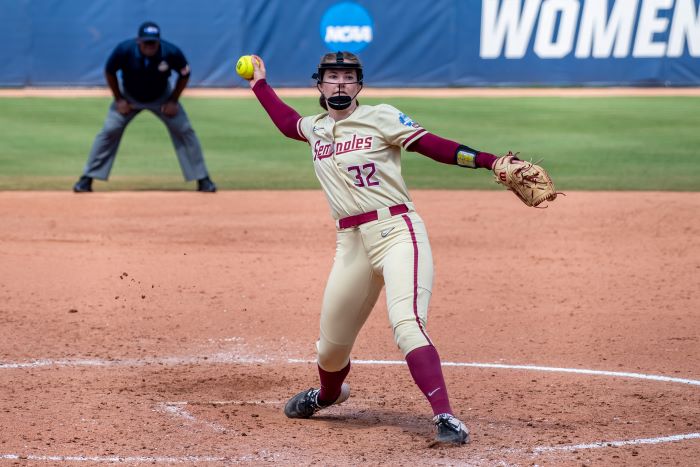 The NCAA Division I Softball Championship is set to get underway this Friday as 16 sites are prepared to host the first round of the national softball tournament.
From May 20-23, teams will battle at each site in a double-elimination style round-robin tournament which will cut the field of 64 down to just 16 in a matter of 72 hours.
Some Regional Champions will be national seeds, while others may not be, and just like with March Madness, it is nearly impossible to predict how each Regional will play out; but I'm going to try anyways.
The No. 2 overall seeded Florida State Seminoles are set to host Howard, South Florida, and Mississippi State in Tallahassee, with the 'Noles taking on Howard and Mississippi State duking it out with South Florida in the first round of games Friday night.
Here is the favorite, a team to watch, and who will ultimately win the Tallahassee Regional.
The Favorite: Florida State (52-5, 19-5 ACC)
Florida State has been the one team that I have looked at and seen a potential match for Oklahoma this season. The Seminoles schedule speaks for itself, as FSU has recorded wins over several national seeds already this season, including (11) Tennessee, (16) UCF, (5) UCLA, (6) Alabama, (14) Florida, (3) Virginia Tech, (10) Clemson, (7) Oklahoma State, and (12) Duke.
The Team to Watch: South Florida (44-14, 12-5 AAC)
South Florida was never able to crack the code on UCF this season, but the Bulls have wins over several other tournament teams, like Oklahoma State, Notre Dame, Wisconsin, Wichita State, and Ohio State. I expect USF to be the team opposite Florida State when Sunday rolls around.
Winner: Florida State
This Florida State team is on a roll, and they have been nearly all season long. I don't expect that to stop this weekend, or next for that matter. FSU ranks second in the country in fielding percentage (.983) and that defense playing behind Kathryn Sandercock is very difficult to score one. I'm taking the 'Noles and their home crowd this weekend, and I feel really good about it.