Big 12 News
Jerome Tang Dealing With High Turnover at Kansas State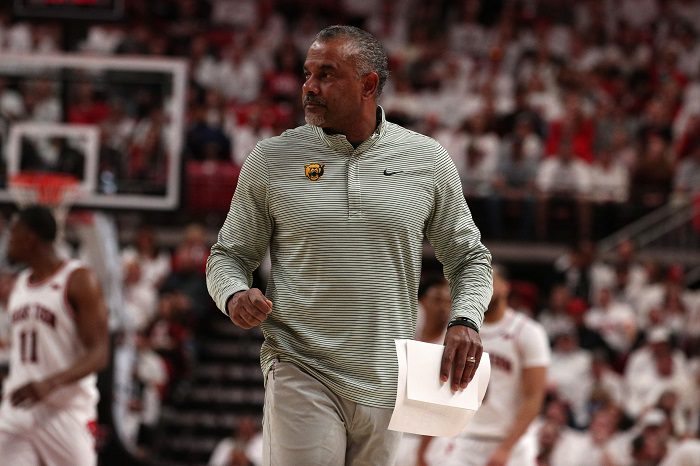 Jerome Tang knew there would be challenges taking over at Kansas State. But a complete rebuild may not have crossed his mind when he took the job.
But that's where Tang and the Wildcats are at as they head into the summer.
OK, not a complete rebuild. That would be ignoring the fact that guard Markquis Nowell and forward Ishmal Massoud are set to return. Both were significant pieces last year.
One could argue that Nowell helped catapult guard Nijel Pack to stardom. With Nowell handling the primary point guard duties that Pack handled in 2020-21, Pack became one of the league's top scorers. Nowell had a fine line last season, too, averaging 12.4 points, 3.4 rebounds and five assists per game.
Massoud was a part-time starter who averaged 6.8 points and 2.8 rebounds. He should take on a much more significant role this coming season.
But they are the most experienced returning players. Guard Mike McGuirl and forward Mark Smith ran out of eligibility.
Then, 10 Wildcats ran out of town, including Pack, who not only declared for the NBA Draft but transferred to Miami (FL).
So, yes Tang is working the recruiting trail and the transfer market as best he can.
He has snagged a couple of transfers in Mississippi State guard Camryn Carter and LSU center Jerrell Colbert.
Carter averaged 2.2 points in one season with the Bulldogs, so he's looking for more playing time. Colbert is in the same boat. He didn't even average a point for the Tigers, but at 6-foot-10 he could be Kansas State's tallest player next season.
Tang also has a three-player recruiting class for the moment. He hung on to forward Taj Manning, who originally signed with former coach Bruce Weber. Meanwhile, Tang signed Chipola College forward Nae'Qwan Tomlin, who was the No. 7 juco recruit in the country according to JuCoRecruiting.com. Guard Dorian Finister hails from New Orleans, where he scored more than 1,300 points for Carver High School.
Tang shouldn't be resting. Between returning Wildcats, transfers and recruits, it looks like he has up to four more scholarships to work with. The transfer portal continues to spin and he is nowhere near done trying to rebuild the Wildcats in his image.
Kansas State Men's Basketball Roster Update for 2022-23
Returning for 2022-23 (4): F Jordan Brooks, G Trey Harris, F Ishmael Massoud, G Markquis Nowell
Wildcats leaving (2): G Mike McGuirl (eligibility), F Mark Smith (eligibility).
Wildcats in transfer portal (10): G Nijel Pack (Miami FL), G Selton Miguel (South Florida), F Carlton Linguard Jr. (UTSA), F Seryee Lewis (Rice), F Logan Landers (Grand Canyon), G Luke Kasubke (Illinois State), G Drew Honas, F Kaosi Ezeagu (Sam Houston), G Maximus Edwards (George Washington), F Davion Bradford (Wake Forest)
Transfers entering program (2): G Camryn Carter (Mississippi State), C Jerrell Colbert (LSU).
Class of 2022 Signees (3): F Nae'Qwan Tomlin (6-foot-8, New York City, N.Y./Urban Assembly School/Chipola [Fla.] College), G Dorian Finister (6-foot-5, New Orleans, La./Carver), F Taj Manning (6-foot-8, Grandview, Mo./La Lumiere School, Indiana).
Projected starting lineup: F Ishmael Massoud, G Markquis Nowell, G Camryn Carter, C Jerrell Colbert, G Trey Harris.
Projected primary bench: F Jordan Brooks, F Nae'Qwan Tomlin, G Dorian Finister, F Taj Manning.