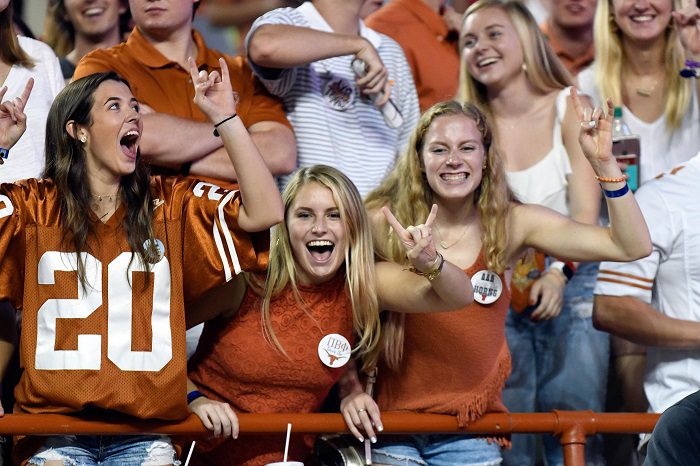 It was announced on Tuesday that FOX had won the broadcasting rights for the Week 2 matchup between Alabama and Texas of the 2022 college football season.
While that is a great thing for FOX and it will be their marquee matchup in Week 2, it may not be such a great thing for college football fans. Why?
Well, FOX is notorious for scheduling their marquee matchups to kick off after their Big Noon Kickoff Show at, you guessed it, 11:00 a.m. While this hasn't been confirmed yet, Texas fans know all too well about FOX's antics and are trying to get out ahead of it before television's talking heads make Longhorn nation bake in the stands all afternoon.
Since FOX Sports headquarters are located in Los Angeles, they may not be aware of this, but Austin, Texas is still operating under summer standards in Septembers. Temperatures are still well above 90 when Oklahoma and Texas play in the Cotton Bowl on the second Saturday in October, let alone just 10 days removed from August.
That is why UT fans have started a Change.org petition titled "Make FOX Put the Alabama Game at Night."
As of noon on Wednesday, May 18, the petition has 750 signatures and counting.
"Instead of competing with whatever game ESPN will choose to have at prime time, FOX Sports, like the cowards they are, elects to broadcast their marquee matchup of the day at noon. Noon," the petition states. "If FOX Sports wants fans to consider them as the ultimate college football broadcaster they should compete with ESPN during prime time, not opting out from the challenge and submissively showing their best game at noon to ensure people will watch it."
Now, the temperatures are one issue, but another is the fact that fans will have to wake up at 7:00 a.m. to start pregaming, and that is a rough time.
Whatever happens, Texas fans will show up to see how their team does against what has been the standard in college football for a long time.