Baylor Bears
Big 12 Baseball Preview: Who Will Win the Conference?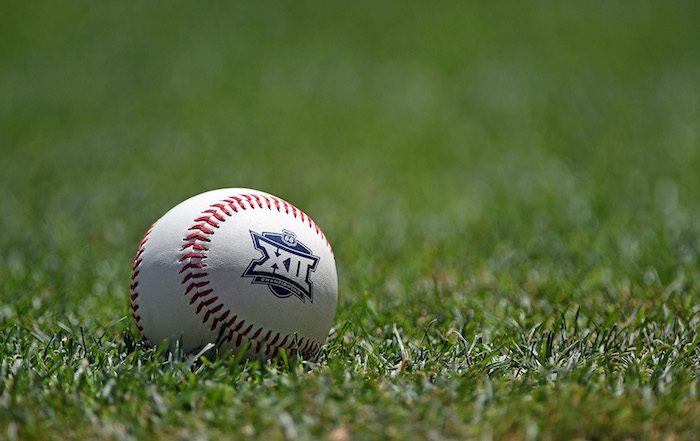 College baseball has moved into the final weekend of its conference schedule as teams start to figure out where they stand. Some are in contention for a Big 12 title while others are fighting for their postseason chances.
There are plenty of exciting matchups heading into the weekend so let's take a look at the upcoming schedule.
Oklahoma at #5 Texas Tech
There is no question that this will be the best series of the entire weekend. The Sooners come in red hot winning four straight series while Texas Tech is fresh off sweeping a top ten Oklahoma State team on the road. Also, both teams are in the hunt for a Big 12 title. The Red Raiders will have their hands full going up against the dominant trio of Peyton Graham, Tanner Tredaway, and Blake Robertson. But the same can be said for the pitching staff of Oklahoma. Outside of Jake Bennett, they have been inconsistent, and they will have their toughest test yet going up against the likes of Jace Jung, Parker Kelly, Kurt Wilson, Cole Stilwell, and Ty Coleman. Both teams can hit but whoever wins the battle on the mound wins this series.
Kansas State at West Virginia
I will start this preview off by saying Kansas State isn't making the field of 64 unless a miracle happens next weekend. However, their opponent, West Virginia needs to find a way to win this series. The Mountaineers are one of those fringe teams who need all the help they can get to get in on selection Monday. Kansas State has had some pitching issues, so I am curious to see the matchup there against West Virginia's best hitters such as McGwire Holbrook, Braden Barry, and Austin Davis. However, West Virginia better be careful on the other side because Dominic Johnson, Nick Goodwin, and Dylan Phillips have been great at the plate this season.
#8 Oklahoma State at Baylor
This may not seem like a great matchup on paper, but it is an important series for Oklahoma State. After being swept by Texas Tech last weekend, Oklahoma State needs a bounce back weekend and needs to take care of business to stay in the top sixteen. We all know about the offense the Cowboys have with Jake Thompson, Zach Ehrhard, Marcus Brown, and Griffin Doersching but can their pitching keep up? Justin Campbell and Bryce Osmond struggled last weekend, so I want to see how they follow up. Meanwhile for Baylor, much like other teams they are just trying do rain on Oklahoma State's parade. They are clearly out of postseason contention unless they win the Big 12 tournament next weekend.
Santa Clara at #24 TCU
The good news is for TCU is that this weekend will not hurt their chances of winning a Big 12 title. The bad news is that it won't help them either. The Horned Frogs are currently sitting atop the Big 12 standings with a 16-8 record. They will need a little help from other teams to stay on top, but this weekend is all about staying healthy for the postseason. If they can sweep a bad Santa Clara team and make a run in the Big 12 tournament next week then maybe they can clinch a top spot, but they just need to keep winning games.
Kansas at #22 Texas
I saved this series for last due to the fact that it will likely be the worst one of the entire weekend. Texas is on the outside looking in when it comes to potentially hosting a regional and they will need all the wins they can get to try and get one of those top spots. The Longhorns have some great hitters between Ivan Melendez, Murphy Stehly, and Skyler Messinger as well as a few others. The question lately has been about the pitching staff. If Texas can keep guys like Lucas Gordon, Tristan Stevens, and Pete Hanson going, then this will be a dangerous team come postseason time. As for Kansas, they have a 4-17 Big 12 record. At this point they are just trying to play spoiler but keep an eye on Maui Ahuna and Nolan Metcalf. Those two have been the heart and soul of that team.