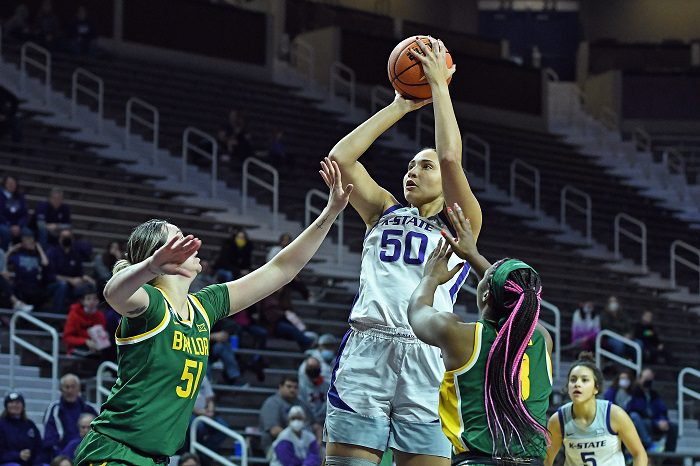 Kansas State has stability. Kansas State has a NCAA Tournament win under its belt. And Kansas State has Ayoka Lee.
In fact, the Wildcats expect to have back at least eight players from last season's roster, Lee being the most prominent. The 6-foot-6 center popped on everyone's radar after her NCAA-record 61-point game against Oklahoma. But, she ended the season on just about everyone's All-America team, not mention All-Big 12 honors.
Lee was the only player nationally with 725 or more points, 325 or more points or 90 or more blocks. She led the Big 12 in field goal percentage (.563) and ranked second in the Big 12 in scoring (22 points), rebounding (10.2), offensive rebounding (3.0) and blocks (2.8).
But, she wasn't K-State's only star. Freshman point guard Serena Sundell was a five-time Big 12 Freshman of the Week, an All-Big 12 Freshman and an All-Big 12 Honorable Mention selection. She, along with Lee, accounted for nearly half of K-State's scoring a season ago.
Sundell was second on the team in scoring (10.6) and led K-State with 5.3 assists per game.
K-State was a young team last year. Along with Sundell, the Glenns — Brylee and Jaelyn — were in their first years in college basketball and both played a role. Brylee Glenn Brylee was an All-Big 12 Freshman pick and averaged 8.2 points and 2.6 rebounds per game. Jaelyn earned All-Big 12 Freshman of the Week honors at one point.
With the return of Emilee Ebert, the Wildcats have a set starting lineup and their top five leading scorers returning. Yes, K-State has lost a few players to transfer. But, admittedly, none of them played a big role in the Wildcats' success last season, during which they won 20 games.
Now, the Wildcats have to do two things — develop untested depth and see if their large freshman and transfer class can contribute.
Guard Rebekah Dallinger, as it stands now, would be the first guard off the bench. She averaged 3.6 points per game last season. Taylor Lauterbach is the immediate backup to Lee, but she didn't get much playing time a year ago, averaging seven minutes.
The Wildcats' Top 25 recruiting class includes a pair of high school teammates in guards Michayla Gatewood and Ja'Mia Harris. Meanwhile, forward Eliza Maupin, who played multiple sports in high school, has intriguing athleticism.
The Wildcats have two more options that are more 'plug-and-play' ready. Former Oklahoma guard Gabby Gregory transferred to K-State hoping for more playing time after she had 785 career points with the Sooners. Arizona transfer Gisela Sanchez averaged just 2.9 points in her freshman season. But she has international experience playing for Spain and has three years of eligibility.
The Wildcats are eager to take the next step in 2022-23. They have the starting lineup to do it. But they now need the bench to support it.
Kansas State Women's Basketball Roster Update for 2022-23
Returning for 2022-23 (8): G Jaelyn Glenn, G Serena Sundell, G Brylee Glenn, G Rebekah Dallinger, F Heavenly Greer G Emilee Ebert, C Taylor Lauterbach, C Ayoka Lee.
Wildcats leaving (3): Cymone Goodrich, Laura Macke, and Savannah Simmons.
Wildcats in transfer portal (3): G Jada Moore, G Malene Lind Pedersen (Wyoming), G Rachel Ranke (UCF).
Transfers entering program (2): G Gabby Gregory (Oklahoma), G Gisela Sanchez (Arizona).
Class of 2022 Signees (4): G Michayla Gatewood (5-foot-6, Glenn Heights, TX), G Ja'Mia Harris (5-foot-8, Lancaster, TX), G Mikayla Parks (5-foot-9,Norman, OK), F Eliza Maupin (6-foot-2, Webster Groves, MO).
Projected starting lineup: G Serena Sundell, G Brylee Glenn, G Jaelyn Glenn, G Emilee Ebert, C Ayoka Lee.
Projected primary bench: G Rebekah Dallinger, C Taylor Lauterbach, G Gabby Gregory, G Gisela Sanchez.