featured
2022 NCAA Softball Regionals Predictions: Stillwater Regional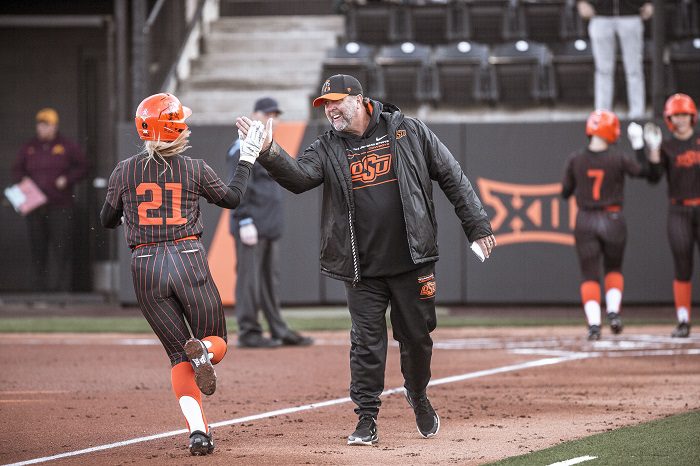 The NCAA Division I Softball Championship is set to get underway this Friday as 16 sites are prepared to host the first round of the national softball tournament.
From May 20-23, teams will battle in double-elimination style round-robin tournament which will cut the field of 64 down to just 16 in a matter of 72 hours.
Some Regional Champions will be national seeds, while others may not be, and just like with March Madness, it is nearly impossible to predict how each Regional will play out; but I'm going to try anyways.
Oklahoma State put an exclamation point on the end of its season by beating Oklahoma in the Big 12 Tournament Finals last weekend, securing them the No. 7 seed in the 2022 NCAA Tournament. The Pokes will host Nebraska, North Texas, and Fordham this weekend in the Stillwater Regional.
Here is the favorite, a team to watch, and who will ultimately win the Stillwater Regional.
The Favorite: Oklahoma State (41-12, 14-4 Big 12)
The Cowgirls are playing good softball at the right time, getting themselves out of a five-game skid by beating Texas and Oklahoma in back-to-back games to secure their program's first Big 12 Tournament Title. The performance of Kelly Maxwell and Morgan Day will take this team far if they continue to play at the level they portrayed in OKC last weekend.
The Team to Watch: Nebraska (40-14, 17-5 Big Ten)
This was a tough draw for Oklahoma State, as the Big Ten Tournament Champions could have easily been a national seed in this tournament. Nebraska tore through the Big Ten Tournament, beating Michigan to take home their program's first Big Ten title. Sound familiar?
Winner: Oklahoma State
I'm calling it right now, this region will see Oklahoma State and Nebraska two or three times. To me, they are fairly evenly matched and the Cornhuskers are seriously undervalued as the second seed in this region. Unfortunately for them, Oklahoma State is better in the circle and is playing really good softball right now. It's going to be a close one, but Oklahoma State will prevail.