Big 12 News
TCU Women Lead Big 12 Teams at NCAA Women's Golf Championships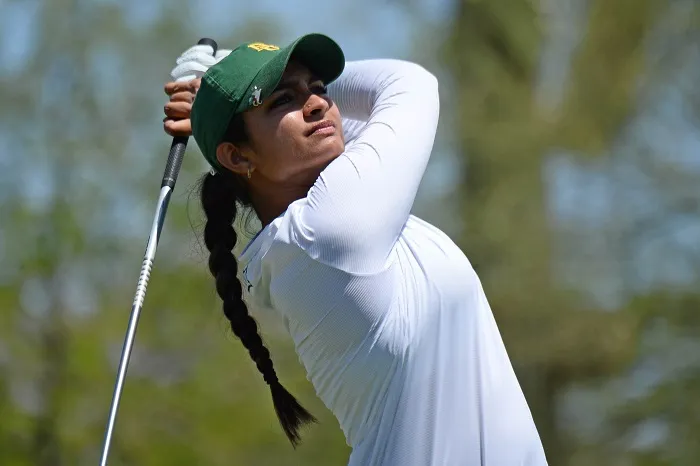 The TCU Horned Frogs were the highest-finishing Big 12 team after the first round of the NCAA Women's Golf Championships in Scottsdale, Ariz., on Friday.
On a day in which no team finished at even par or better at Grayhawk Golf Club, the Horned Frogs positioned themselves to move on after the first cut of the tournament after the third round on Sunday. The Top 15 teams move on to Monday's final round before match play begins on Tuesday, featuring the Top 8 remaining teams in the field.
TCU finished 11th, Baylor finished in a tie for 12th, Texas was in 19th and Oklahoma State was in a tie for 21st.
Stanford is the tournament's leader at 1-over-par. The Cardinal was followed by Texas A&M in second place and UCLA in third place.
TCU shot a first-round of 12-over-par 300. Sabrina Iqbal finished with a 71 to lead the Horned Frogs, followed by Valeria Pacheco's 74. Caitlyn Macnab shot a 77, Lois Lau shot a 78 and Trinity King shot an 83. TCU is appearing in the NCAA Championship for the first time since 2010.
Baylor, which won its regional going away, ended up with a 13-over-par 301. Gurleen Kaur and Rosie Belsham led the Bears, each of whom shot a 74. After that, Addie Baggarly shot a 76, Hannah Karg shot a 77 and Britta Snyder shot an 83.
Texas shot a 17-over-par 305. Brigitte Thibault shot 75, while Bohyun Park shot a 76. Sara Kouskova and Sophie Guo each shot a 77 and Bentley Cotton shot a 78.
Oklahoma State struggled on Friday, as the Cowgirls shot a 19-over-par 307. All five Cowgirls finished over par, led by Hailey Jones and her 74. Lianna Bailey shot a 76, Maddison Hinson-Tolchard shot a 78, Rina Tatematsu shot a 79 and Han-Hsuan Yu shot an 80.
Iowa State had two individual players in the field and they were still on the course when team play ended. Taglao Jeeravivitaporn shot a 77 while Ruby Chou shot a 78.
The team national champion is crowned through match-play format with teams seeded 1-8 based on stroke play results. The quarterfinals and semifinals take place Tuesday, while the championship match is scheduled for Wednesday.
Follow Matthew Postins on Twitter @PostinsPostcard