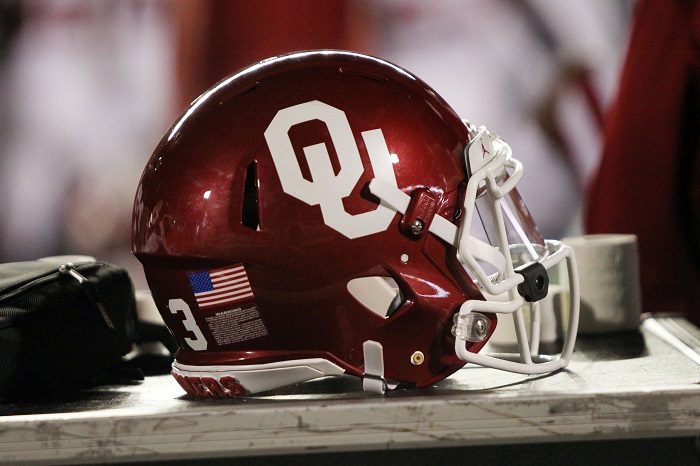 Oklahoma football has had a few good walk-ons the last several years. Quarterback Baker Mayfield is the most notable among them. He won nearly every honor in 2017, including the Heisman Trophy. Lee Morris became a reliable wide receiver for Kyler Murray, and Jalen Hurts. Connor McGinnis came aboard as a quarterback but wound up being the placekicking holder for four years and won the Peter Mortell Holder of the Year Award his sophomore season. Drake Stoops, another clutch receiver, will be entering his senior season this fall.
Another name who could join the ranks of elite walk-ons in Norman is Gavin Freeman, a 5'10" receiver from Oklahoma City's Heritage Hall, the same school as McGinnis.
In October, Freeman had committed to Texas Tech after the Red Raiders made him an offer. He also received offers from Tulsa and Air Force, but not Oklahoma.
"The relationships I built with the Tech coaches were a huge part of my decision. I felt completely comfortable with them," Freeman said of his decision to commit to the Raiders.
Two weeks later, Tech had fired head coach Matt Wells and Sonny Cumbie took over as interim coach, and then Tech hired Joey McGuire to take over beginning in 2022. Freeman had felt no camaraderie with McGuire and his staff. In the meantime, Brent Venables and Cale Gundy showed interest in having Freeman join the Sooners.
Freeman decommitted last February to become a preferred walk-on for the Sooners. He said he had been an OU fan since he was six years-old and wanted to follow in his father, Jason's footsteps, who played Tight End for the Sooners from 1995-98.
"There's no place I'd rather be," Gavin said. "OU has got everything I want."
Everything including being reunited with Wells, whom Venables added to his staff as an offensive analyst in March.
Freeman amassed 2,257 all-purpose yards and 24 touchdowns his senior year at Heritage Hall. He hauled in 73 passes for 1,434 yards (nearly 20 yards per reception) and scored 18 times. Freeman also carried the pigskin 14 times for 117 yards and 4 TDs last year. He played safety on defense, logged 50 tackles, and picked off 4 passes. He averaged 11.3 yards in punt returns and 33.9 yards on kickoff returns on special teams. The Oklahoman named him to their All-State first team as a wide receiver his junior and senior years. The Tulsa World selected Freeman to its defensive first team in 2021.
Football is not the only sport where Freeman excels. Earlier this month, he won the state's 100-meter dash in Class 3A and helped the Chargers to a second-place showing in the 4×200 relay.
Chargers' football coach Brett Bogert believes Freeman will immediately impact the Sooners.
"It's a steal," Bogert recently told The Oklahoman. "He's dynamic. He can do anything."
In addition to McGinnis, Heritage Hall has groomed some great football players. Wes Welker, who starred at Texas Tech, and a guy named Sterling Shepard, who was a two-time All-Big 12 wide receiver for the Sooners. Welker and Shepard signed scholarships at their respective schools, and it won't be long until Freeman earns his scholarship.