featured
Three Thoughts on Oklahoma State's 12-0 Win Over Fordham in NCAA Regionals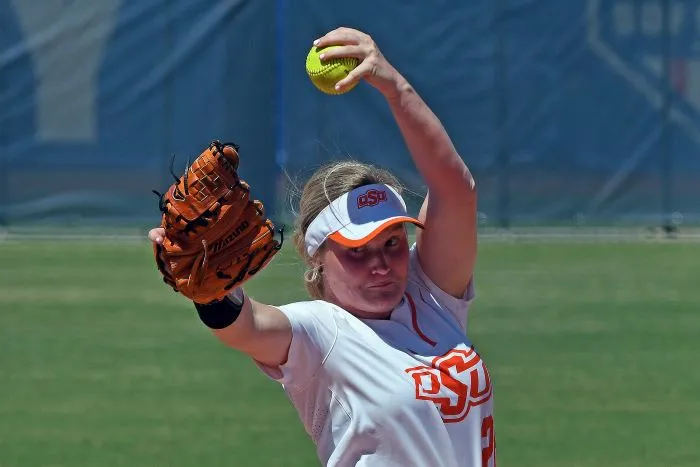 In the opening round of the Stillwater Regional, Oklahoma State showed why it is one of the best teams in college softball, defeating Fordham 12-0 in five innings.
The Cowgirls put on a clinic on both sides of the ball, as Kelly Maxwell dominated the circle and OSU's bats were hot from beginning to end.
The win sets Oklahoma State up with a contest against Nebraska tomorrow afternoon at 1:00 p.m. in Game 3 of the Regional.
Here are three thoughts I was left with after OSU's impressive victory.
Kelly Maxwell Continues to Deal
Oklahoma State's ace lefthander Kelly Maxwell has been a fixture for the Cowgirls all season long, and that trend certainly continued as the junior dominated the Fordham Rams all night long. Maxwell sent 10 back to the dugout in 5.0 IP, allowing just two hits in 17 ABs. Pitching Maxwell on Friday night means Morgan Day will get the ball tomorrow against Nebraska, but with the way she performed in the Big 12 tournament, Coach Kenny Gajewski has to feel good about his pitching staff in this regional.
Oklahoma State Offense Erupts
The Oklahoma State bats came in hot and never cooled off on Friday night, going 10-21 (.476) at the plate, including a monster grand slam from Florida transfer Julia Cottrill that gave OSU its final four runs, making the tally 12-0. The Cowgirls did not record a strikeout all night and also drew six total walks, as the Rams really struggled in the circle. Performances like this are what the Pokes need to get to Oklahoma City in a couple of weeks, and tonight was about as good of a start as they could ask for offensively.
Big 12 Dominates in Opening Round
Three Big 12 teams entered the opening round of the NCAA tournament and, as expected, all three of them will be participating in winner v. winner games tomorrow afternoon. However, it's not that they just did it, its how they did it. Oklahoma State, Oklahoma, and Texas combined to outscore their opponents 32-0 on the day. Not only did they not allow a run, but the three programs also allowed just seven hits all day long. In what was a pretty lopsided day in the tournament, the Big 12 certainly proved to be a cut above their opening round foes.