featured
Three Thoughts on Oklahoma's 14-0 Win Over Prairie View A&M in NCAA Regionals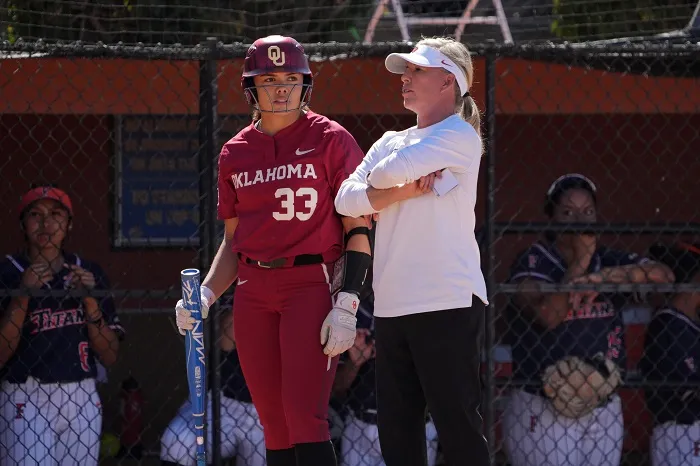 Oklahoma absolutely blew by the Prairie View A&M Panthers on Friday night, winning the contest 14-0 in just five innings.
The Sooners will now face Texas A&M tomorrow at 1:00 P.M. in Game 3 of the Norman Regional.
Patty Gasso's squad started out a bit slow in the first two innings but looked like they were on a mission from there on, sending ball after ball into the Oklahoma night sky.
Here are three thoughts that I was left with after the Sooners' dominant opening round victory.
Oklahoma's Offensive Onslaught
Oklahoma did what it has done for the majority of 2022, putting up runs at will against a seemingly hopeless opponent. The Sooners hit four home runs, with Tiare Jennings (1st), Jocelyn Alo (4th), Grace Lyons (4th), and Turiya Coleman (4th) all got in on the longball action. Collectively, the Sooners maintained a batting average of .478 (11-23) on the evening, striking out just once at the plate all night. In her third inning interview, coach Patty Gasso said that her team was trying too hard to put the ball out of play and that they made some adjustments going into the third to help with their effectiveness. I would say that the adjustments worked, as OU proceeded to put up 11 more runs.
May, Trautwein Combine for No-Hitter
Oklahoma's Nicole May got the start against PVAMU, and was terrific in 4.0 IP, striking out seven and walking just one batter. She showed great control of the ball after settling in in the second inning. Then, after it was clear that this game wasn't going to make it past five innings, Hope Trautwein had her name called. All she did was come into the circle and strike out all three batters that she faced. Together, the duo of Sooner arms combined for the third no-no performance of the 2022 NCAA Softball Tournament so far.
Jordy Bahl Not Available
Much of the buzz surrounding Oklahoma recently has been the availability, or the lack thereof, of freshman pitcher Jordy Bahl. On Friday night, as was the case for the entirety of the Big 12 Tournament, Bahl was not available. Long time Oklahoma reporter James Hale also made an interesting note on Bahl tonight, saying that she was wearing a cast on her right forearm this evening and will not be available for the Sooners all weekend. Frankly, the Sooners likely won't need her to get into the Super Regionals, or perhaps even in that round, but having her back by time the WCWS comes around will be paramount for Oklahoma's success in repeating as national champs.