featured
What Kansas Basketball Needs to Repeat as National Champions in 2022-23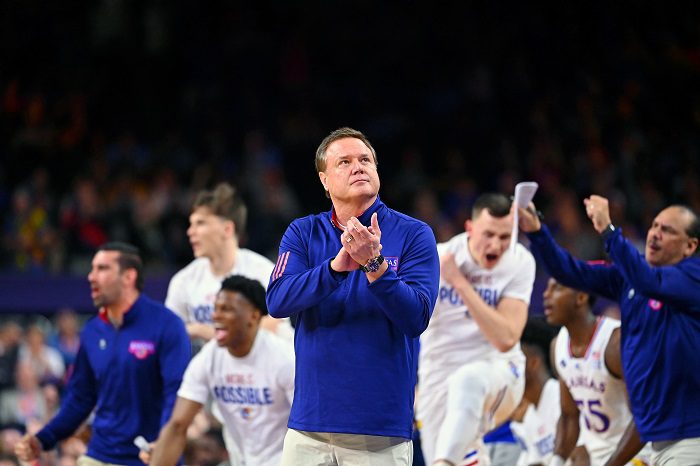 The Kansas Jayhawks are coming off an incredible season. It was a season that saw them climb to the mountain top in March Madness and walk away with their first National Championship since 2008. 
So how can head coach Bill Self and the Jayhawks get back to that place of euphoria and be the first team in Kansas basketball history to win back-to-back national championships?
It won't be an easy task, but here is what would need to happen.
Key Contributors Return
It all starts with the returning players, which as of right now, isn't set in stone quite yet. They lost several regular contributors in Ochai Agbaji, David McCormack, Mitch Lightfoot and Remy Martin. Those names were responsible for a large chunk of the production during the team's championship run. 
Christian Braun and Jalen Wilson are returning starters who will make a decision about their NCAA future by June 1st, so that deadline is quickly approaching. If Braun and Wilson choose to come back, that would be huge. Having two veterans with that experience would give this team a boost heading into summer workouts and then again into the regular season.
Braun and Wilson would likely join guards DaJuan Harris and Bobby Petiford along with incoming power forward freshman Gradey Dick as the likely starters for the 2022-2023 squad. That group of guys would certainly be seen as contenders, no doubt about that.
New Faces Have Immediate Impact
Along with the projected starting five above, there are players like Joseph Yesufu, Zach Clemence, and KJ Adams plus Cam Martin and Kyle Cuffe who were redshirts last season who will add their talents to the squad. This could be a deep bench.
There's also the other incoming freshman, in addition to Dick, on the way. McDonalds All-Americans MJ Rice, who is slated to be a small forward/wing player, and Ernest Udeh, a 6'10" center who is built like a rock, would join Dick as top tier recruits that will push for playing time right now.
Another Top 50 prospect, Zuby Ejiofer, is a 6'8" power forward who will also add size and depth to the squad. This is a top five recruiting class and Self has not officially dipped into the transfer portal yet.
Last year's addition of Remy Martin could be key for Self being able to add transfers in the future. Martin had a limited role during the regular season before shining for the team in the Big 12 and National tournaments. If Self loses Braun or Wilson to the NBA, he could dig into the transfer portal to add another player for depth.
Former Texas Tech shooting guard, Kevin McCullar, recently committed to Kansas but like Braun and Wilson, he is weighing his professional options and has until June 1st to make a final decision in that regard. 
Conclusion
Kansas has another brutal schedule ahead of them with a tough non-conference slate of games to go along with a tough stretch against Big 12 foes. The Jayhawks will need to earn every victory they get this season, as this team comes into it with a huge target on their back.
However, they will likely have the players and depth (plus the best coach in all of college basketball) to make another deep run in March. The strength of schedule will only help the team get ready for what it takes to make another run at the National Title. It won't be easy by any stretch of the imagination, but it is possible.
What are you most looking forward to with this upcoming season for KU hoops? Gradey Dick and this freshman class? The incredible slate of non-con games? Another shot at winning back to back Big 12 regular season and tourney titles? Going for back to back National titles? There's a lot to be excited for if you're a KU basketball fan.