Big 12 News
Texas Target Arch Manning Impresses Everyone at His Spring Game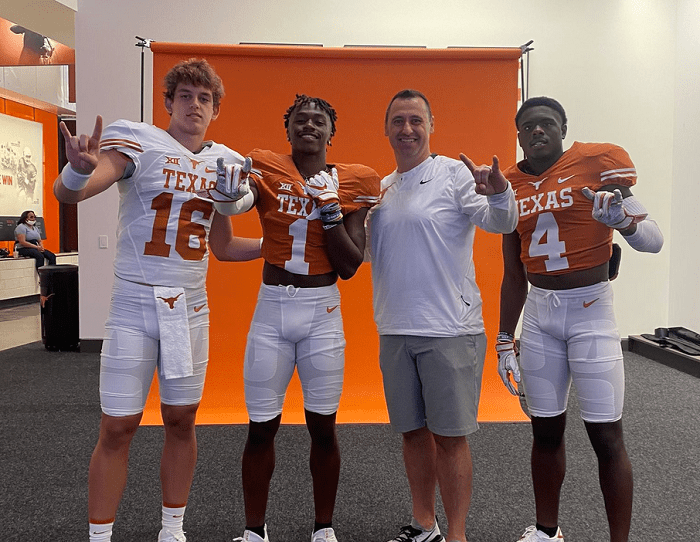 Arch Manning, the No. 1 quarterback in the 2023 recruiting class, put together an impressive outing in his high school spring game on Friday.
It's not often multiple media outlets, especially ones on a national basis, show up for a spring game at the high school level. But, of course, Manning is no ordinary recruit. The son of Cooper Manning, the nephew of future Hall of Famers Peyton Manning and Eli Manning, and the grandson of New Orleans Saints legend Archie Manning, drew quite the crowd.
That includes representatives of the schools that are currently chasing him on the recruiting trail — Texas, Alabama, Georgia and LSU.
What did they see? Well, according to 247Sports.com, pretty much what everyone expected to see from the rising senior at Isidore Newman in New Orleans.
In a controlled scrimmage he led several scoring drives and threw three touchdown passes.
Manning's recruitment has been 'old school,' if there's been a way to do that. The younger Manning rarely makes any public comment, and his father Cooper, isn't that visible either, except for the commercials that he does with his brothers and father. That's the way Cooper has designed it, according to an article in the New York Post. After watching his brothers deal with high-level recruitment during their high school careers, he wanted to shield Arch as much as possible.
Arch only recently opened a Twitter account, but it was Cooper that started the account and he only did it because there were fake accounts. Cooper told the post that the campus visits are enough for Arch to start making decision and dismissed reports that Texas and Georgia were the front-runners.
Whatever happens, once he finally makes a decision, it would be wise not to expect a splashy social media decision by Arch.
He seems willing to let his play do the talking.
Follow Matthew Postins on Twitter @PostinsPostcard