featured
Three Thoughts on Texas' 8-2 Win Over Washington in NCAA Softball Regionals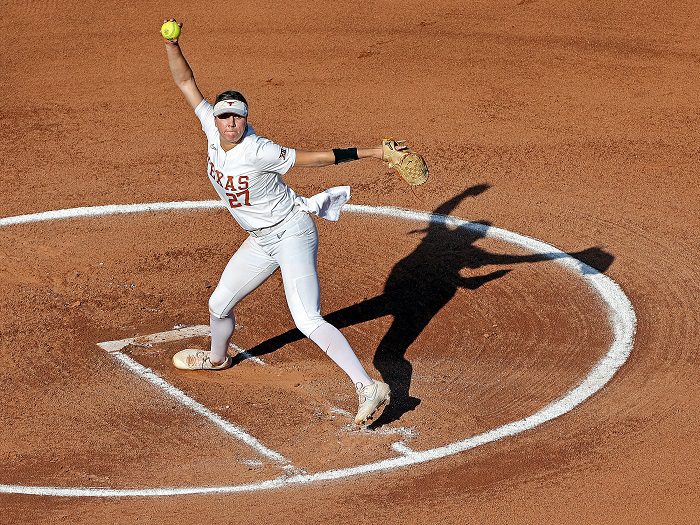 The Texas Longhorns rallied to upset the No. 13 seed Washington, 8-2, in their winner's bracket matchup on Saturday afternoon.
The Longhorns were down 2-0 going into the sixth inning, but stormed back with three unearned runs in that frame and five more runs in the seventh to cap off the win.
With the victory, Texas will take the rest of the day off and await the winner of Game 5 of the Seattle region, which is set for Saturday night at 9:00 p.m. CT.
With that in mind, here are three thoughts on Texas' massive victory over the Huskies.
Texas Fights, Rallies Big Late
Texas looked to be the latest victim of Gabbie Plain as the Longhorns were scoreless going into the sixth inning, down 2-0 to the Huskies in Seattle. Then, suddenly, the flood gates opened up for the UT offense. It started with an error by Washington All Pac-12 Shortstop Bailee Klinger, allowing Janae Jefferson to get across home plate. Shortly after that Lauren Burke, who went 3-3 on the day, singled down the left-field line, and an error by UW's left fielder allowed both Camille Corona and Mia Scott to score, giving Texas a 3-2 lead. That's where things swung heavily in Texas' direction, leading to my next thought.
Washington Pitching Change was Final Straw
The Huskies elected to take Gabbie Plain out of the game after three runs came across for Texas in the sixth, giving way to Pat Moore in the circle. Well, that proved to be Washington's fatal mistake in this game, as the scoring got out of hand after that. Texas took Moore to the cleaners in the seventh inning, garnering five hits and five earned runs in just 1.1 IP for the fifth-year senior. In 37 pitches, this game went from a close rally by the Longhorns to being on the verge of a blowout for the Burnt Orange.
Big 12 Continues Dominance in Day Two
Texas, along with their fellow Big 12 members Oklahoma and Oklahoma State, are heading to the final day of regionals, going 6-0 through the first two days. Yesterday, all three teams were just flat better than the teams that they faced, and it showed on the scoreboard. Today, the competition ramped up quite a bit, but the Big 12 trio stood strong and prevailed. Oklahoma had to hold off a late rally from Texas A&M to win a close one, while both Oklahoma State and Texas trailed against top teams from other conferences and found ways to battle back and win big. Going into day three, all three are in great spots to make it to Super Regionals next week.