Baylor Bears
Baylor's Matthew Mayer Withdraws from NBA Draft, Will Transfer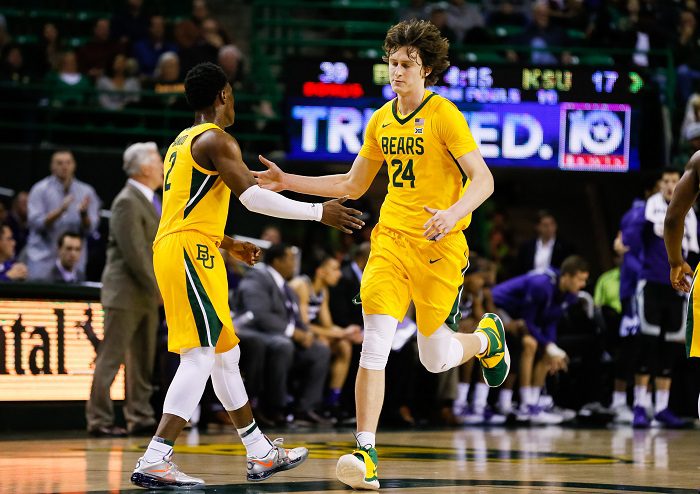 After four seasons with the Baylor Bears, Matthew Mayer has decided that he will withdraw from the 2022 NBA Draft and finish out his collegiate career with another school.
Mayer spoke with Adam Zagoria and stated "I've decided that I'm coming back to college but don't know where."
The Baylor forward gave his thanks to the Bears when announcing his decision to enter the draft process back on April 22nd writing, "Thank you to everyone at Baylor and the amazing fans for the last four years. Being a part of a winning culture and a championship team is something I will never forget and something that's allowed me to prepare for the next step. I'm excited to announce I will be entering my name into the 2022 NBA Draft, while retaining my college eligibility."
Mayer was a four-star prospect coming out of high school and was ranked No. 93 by 247Sports in the 2018 class, No. 5 in Texas by ESPN. During his time at Baylor, the 6'9 forward provided a spark off the bench his first three seasons before earning his role as a starter his senior year.
In his junior year, Mayer played his role off the bench in Baylor's national championship run averaging 8.1 points, 3.7 rebounds, and 1 assist per game, appearing in 30 games. This past season, Matthew Mayer started in all 33 games for the Bears averaging 9.8 points, 5 rebounds and 1 assist while shooting 40.9% from the field.
There is high interest in landing the former Baylor forward, with teams such as Texas Tech, North Carolina, USC, Memphis, Alabama, Illinois, and Arkansas contacting Mayer. UNC star Armando Bacot even took to Twitter to try and recruit Mayer, tweeting "Don't make me come kidnap you bro, you know wassup." This might peak the interest of the former Baylor forward, after seeing the success that Brady Manek had after he transferred from Oklahoma to the Tar Heels last season to finish out his collegiate career.
Baylor will have a fresh look next year with players such as Kendall Brown, James Akinjo, Jeremy Sochan, and Adam Flagler entering the NBA Draft.
This is becoming a common theme for players to go through the NBA Draft process to get feedback before returning to school. There is no timeline on his decision, but whatever team Matthew Mayer decides to attend will be adding a veteran wing with a soft shooting touch, length, athleticism, and a winning mentality.
The deadline to withdraw from the NBA Draft is June 1st, with the draft taking place on June 23rd.