Baylor Bears
Three Big 12 Games Among Top 10 of 247Sports' Top 100 Games of 2022 College Football Season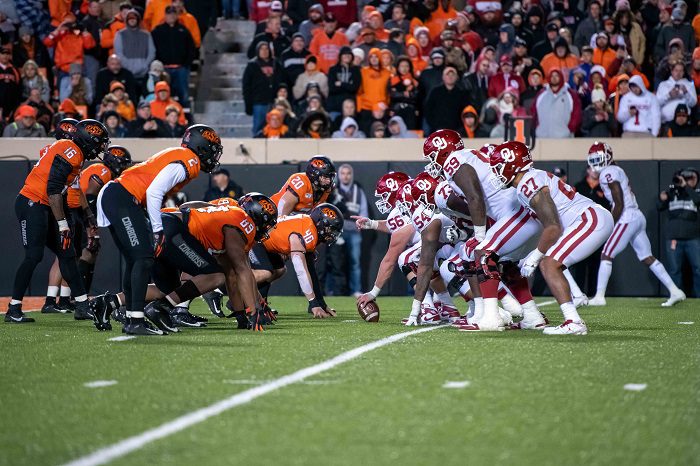 This week officially marks less that 100 days to the college football season (96 days to be exact) and that means we are in mid-offseason form, with sportsbooks opening up the lines, offseason talk surrounding depth chart rumors and the constant barrage of "lists."
Yes, it is offically "list" season, with top games, storylines, dark horses, favorites, jerseys, etc. coming out in droves over the next few weeks. However, before you even scoff, don't pretend that you don't scour every list that you see for a tidbit of something on your favorite team. We all do it, it's a part of being a college football fan.
With that said, one of my favorite lists so far this offseason was released on Monday, with 247Sports' Top 100 Games for 2022. Among the list is a total of 15 games featuring Big 12 programs, but among the Top 10 of the list are three marquee matchups in the Big 12.
Here are those three games, and what 247Sports' Brandon Marcello had to say about each of them.
2. ALABAMA AT TEXAS (SEPT. 10)
"Texas and Alabama meet in Austin after the Longhorns revamped and upgraded their roster in the transfer portal during the offseason. The Tide might be much better (and deeper) in the trenches and are an early favorite of about two touchdowns, but traveling to Austin in Week 2 and facing a former 5-star quarterback can be tricky, even for the best team in the country.
"Quinn Ewers has plenty of weapons at receiver (Xavier Worthy and Wyoming transfer Isaiah Neyor), and running back Bijan Robinson will certainly be willing to steal the spotlight if provided the opportunity. Plus, it's yet another high-quality showdown pitting Saban against one of his former assistants (Steve Sarkisian). Is Saban set for another loss in the Lone Star State after falling to Fisher and the Aggies in 2021? What a fantastic preview of this future SEC rivalry."
5. TEXAS VS. OKLAHOMA IN DALLAS (OCT. 8)
"The 2021 Red River Rivalry made Caleb Williams into a star and ruined Steve Sarkisian's Dallas debut, but Oklahoma's superstars from the largest comeback victory in the series' history have been recast heading into the fall. Oklahoma coach Lincoln Riley is now in Los Angeles and so, too, are the top-billed stars from that incredible 55-48 win inside the Cotton Bowl — Caleb Williams and receiver Mario Williams. Texas appears to be better equipped this fall to defeat the Sooners, who enter a new era with a new coach (the venerable Brent Venables), a new quarterback (UCF transfer Dillon Gabriel) and much stronger resolve in the locker room. This variation of the rivalry game will carry Big 12 title implications."
8. OKLAHOMA STATE AT OKLAHOMA (NOV. 19)
"Bedlam hasn't been good for Oklahoma State year to year since the turn of the century, but now there's an opening for the Cowboys to change that story. Oklahoma State rallied, defeated and stormed the field against the Sooners last season in Stillwater. Now comes the hard part: winning two in a row for the first time in 20 years. The Cowboys are set on offense but the defense loses coordinator Jim Knowles to Ohio State after he coached the Pokes' best defense in 30-plus years.
"The Sooners lose quite a bit, too, as mentioned earlier, but can the Cowboys break through in Norman? Interestingly, two of Oklahoma State's last five wins in Bedlam have happened in Norman — and don't forget about the close calls in 2012 and 2018. What does Bedlam veteran Mike Gundy have up his sleeve in his 18th year as head coach against first-year coach Brent Venables?"
Here are the other 12 contests mentioned among the Top 100 games on Marcello's list.
16. Oklahoma State at Baylor (Oct. 1)
21. Baylor at Oklahoma (Nov. 5)
42. Texas at Oklahoma State (Oct. 22)
45. Baylor at Texas (Nov. 26)
53. West Virginia at Pittsburgh (Sept. 3)
56. Oklahoma at Nebraska (Sept. 17)
57. TCU at SMU (Sept. 24)
63. TCU at Texas (Nov. 12)
76. Texas Tech at NC State (Sept. 17)
84. Iowa State at Iowa (Sept. 10)
87. Oklahoma State at TCU (Oct. 15)
94. West Virginia at Virginia Tech (Sept. 22)