featured
NCAA Softball Preview: Arkansas Hosts Texas in Fayetteville Super Regional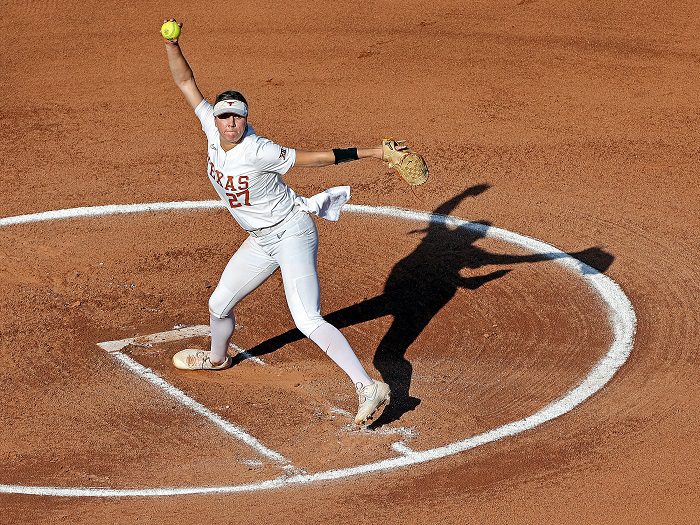 The unseeded Texas Longhorns are coming off a weekend where they beat No. 13 Washington to advance to the Super Regionals for the third season in a row.
Texas pitcher Hailey Dolcini was an impossible code for the Huskies to crack and Janae Jefferson showed up in a big postseason moment, yet again, giving the Longhorns what they needed to get past Gabbie Plain and Washington.
Now, they will face a much steeper test against arguably one of the top teams in softball right now: the No. 4 seed Arkansas Razorbacks.
Texas will head to Fayetteville this weekend with an upset on their minds and here is what you need to know about the matchup.
Tale of the Tape
Arkansas (47-9, 19-5 SEC): The SEC Champions were impressive in their regional, outscoring their opponents 26-5 over the weekend. The Razorbacks' team batting average (.335) is second only to Oklahoma for teams left in the field, and ranks fifth in the country. The Hogs' offense has won games all season long with an overpowering offense, and that has been the story recently as well. Arkansas' pitching staff, which ranks 51st in the nation with a 2.72 ERA, is capable of being attacked, but this isn't a team that Texas wants to get in a scoring marathon with. Five players in this lineup have hit double digit home runs in 2022, with Linnie Malkin (22 HR, .394 batting average) and Danielle Gibson (20 HR, .445 batting average) leading they way.
Texas (41-18-1, 12-6 Big 12): Texas faced Weber State once, and Washington a total of three times in the Seattle Regional this last weekend, winning two of three against Gabbie Plain and the Huskies. Hailey Dolcini pitched three straight complete games against UW, and will likely be asked to do just that against Arkansas if three games are necessary to decide a winner. Janae Jefferson and Mia Scott will also be major players in this series, as the former was a lightning rod for the Longhorns in Seattle and the former a weapon for UT throughout the season. Texas is opportunistic on offense, but they will need to put up runs in bunches to win this series.
Super Regional Schedule
LOCATION: BOGLE PARK; FAYETTEVILLE, ARKANSAS
Game 1: Thursday, May 26, 6:00 p.m. CT (ESPN2)
Game 2: Friday, May 27, 5:30 p.m. CT (ESPN2)
Game 3: Saturday, May 28 (if necessary)
One Thing to Watch
The battle between Texas' pitching staff and the Arkansas lineup will decide who ends up in Oklahoma City next week for the Women's College World Series. This will be the toughest lineup that Texas has faced since they played Oklahoma back in mid-April. Now, Dolcini stepped up to the challenge against the Sooners, allowing just five runs in 14.0 IP against the top offense in the country. If she can replicate that success against Arkansas, it will give the Horns a good shot at getting back to Oklahoma City for the first time since 2013.