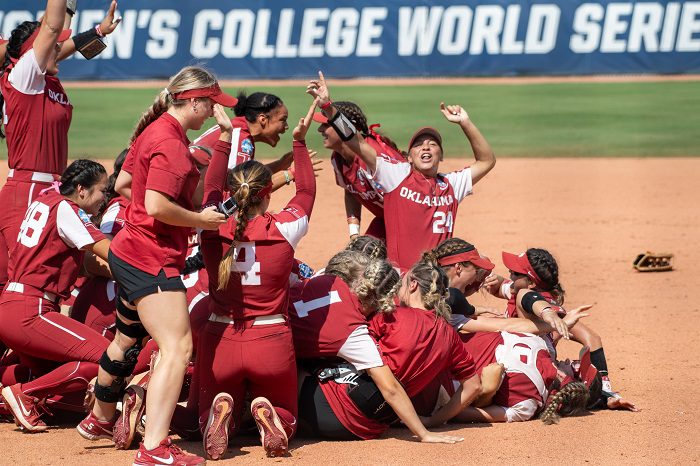 On Wednesday, ahead of the NCAA Softball Super Regionals, ESPN's Hallie Grossman released a story titled "Oklahoma softball and the secrets behind the most dominant team in sports," and went into significant detail as to why the Oklahoma Softball program is not just the best team in softball, but the most dominant team in sports.
Grossman uses stats early in the piece to back up her claim, and it is quite hard to argue her point once you are done reading.
"At 52-2, Oklahoma's stat line as a team is — to put it clinically — preposterous," Grossman writes. "The Sooners lead the country in batting average (.369), ERA (0.81), home runs per game (2.46), scoring per game (9.26) and slugging (.730). They regularly do their opponents dirty, outscoring them 500-47 for the season, blanking them 31 times overall (including seven no-hitters) and run-ruling them in 37 out of 54 attempts. Pause to really marinate with this: In a season that has spanned more than 50 games, almost 70% of the time opposing teams have, essentially, begged for mercy. On Sunday, the Sooners beat Texas A&M 20-0 in five innings, which was the largest margin of victory in NCAA tournament history and sent them to the super regionals against UCF.
"None of this is especially new. After the Sooners beat the top-10 Cowgirls in the second game of the series (6-0; a rare non-run-rule outing), they secured their 10th straight Big 12 regular-season title. In the nine Women's College World Series that have been played since 2012, they've won four and finished runner-up in two more. They own the second-longest winning streak in NCAA softball history (41 games in 2019), and the third- and fourth-longest (40 apiece from 2020 to 2021, and again from 2021 to 2022). By the time their most recent run was snapped by Texas in April, their 38 straight victories to kick off 2022 was the best start to a season in NCAA annals."
She then goes into several intricacies of the program, such as Patty Gasso's off-field habits, Jocelyn Alo's struggles during her sophomore year before coming the "Homerun Queen," and how the team handles the immense pressure on their shoulders so effortlessly.
At one point, Grossman calls Gasso's demeanor "Belichickian" in the way that she approaches the day-in day-out grind of coaching the best team in her respective sport. It's hard not to see the comparison and wonder if there is something more to that comparison.
Now, as the Sooners get set to host UCF in the biggest series of their season thus far, Gasso's demeanor and demand for excellence are surely on full display. The NCAA Super Regionals are, after all, one stop away from Oklahoma City, where Oklahoma hopes to win their fourth National Championship in the last six seasons.
Here is a link to the full story, a must read if you are a Sooner Softball fan.