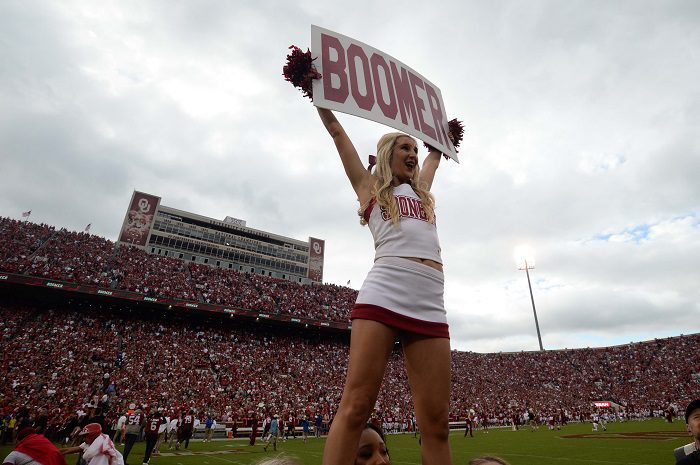 College football is the biggest moneymaker in NCAA athletics, and as the old saying goes, "it takes money to make money." Some of those funds go back into the program by means of stadium and facility upgrades, but what good does that do if fans don't show up every Saturday and have the place rocking?
College football stadiums are meccas for each team's loyal followers to come to on Saturdays in the fall to "worship" their favorite teams. There are some atmospheres that are just flat better than others, and obviously, a large majority of that is going to determined by recent success and funds around the program
Naturally, this list is going to be heavily skewed towards venues that have rowdy fan bases and upgraded facilities, so with that in mind, here is our list for the top venues in Big 12 football.
10. Kansas Jayhawks – David Booth Kansas Memorial Stadium
Location: Lawrence, Kansas
Capacity: 47,233
If this were a list of the top basketball arenas in the Big 12, Kansas' Phog Allen Fieldhouse would be at the very top. However, this list is concerning football stadiums and Kansas' needs some work. It's outdated and I mean wildly behind the times.
Plus, it's too big for the product on the field and the temporary seating, that is actually permanent through the football season in the south endzone, just throws everything off.
It's hard to be intimidated, much less stay awake, when your team has a game in Lawrence, Kansas, and that's why this is easily the bottom venue in the conference.
9. TCU – Amon G. Carter Stadium
Location: Fort Worth, Texas
Capacity: 50,000
As far as facilities go, TCU has had a major facelift in recent years, and it is a sight to behold. Unfortunately, there aren't many Frog fans coming to check it out on Saturdays, as there has been a steep decline in home attendance for TCU.
Hopefully Sonny Dykes can breathe some life back into the atmosphere there in Fort Worth, as it just isn't what it was back in mid-2010s. Amon G. Carter was a scary place to play back in 2013-14, but now it feels like its barely above Kansas in terms of intimidating places to play.
As much as it hurts me to say, ninth is right about where TCU belongs on this list for now.
8. Kansas State – Bill Snyder Family Stadium
Location: Manhattan, Kansas
Capacity: 50,000
Kansas State comes in on this list at No. 8 for me because, while there's nothing wrong with Bill Snyder Family Stadium, there also isn't a lot that just makes me want to go witness it myself.
The fans show up, no doubt, as the K-State faithful packs in a purple sea of humanity almost every Saturday, so this isn't a slight to the fan base whatsoever. It's a slight to the fact that the stadium was built in 1968, and it doesn't feel like much has changed outside of some club seating being added last season.
The stadium keeps this venue from reaching the heights that K-State fans deserve.
7. Baylor – McLane Stadium
Location: Waco, Texas
Capacity: 45,140
McLane Stadium's location right alongside the Brazos River creates a truly unique experience outside of the stadium, and the inside is nearly as pleasing to the eye. This venue is quickly rising on lists like this one, and the Bears recent success certainly helps.
Before the Bears were bi-annual Big 12 contenders, dating back to before McLane opened in 2014, Floyd Casey Stadium was vying for the bottom spot with Kansas, but this is a major upgrade.
6. Iowa State – Jack Trice Stadium
Location: Ames, Iowa
Capacity: 61,500
As far as stadium design goes, Jack Trice Stadium deserves to be near the bottom of this list, but I am taking something else into account that gets them all the way to six: an absolutely rabid fanbase.
Night games in Ames have become a dangerous trip for everyone else in the Big 12, especially in the Matt Campbell era. When the Cyclones have their black alternates on and the crowd is rocking to "Sweet Caroline," its a pretty intimidating place to be. Just imagine how loud it would be if the stadium was modern and projected more of that out onto the field.
The drawback is strictly an outdated stadium that is in need of some rennovations, but outside of that a terrific college football venue.
5. Texas Tech – Jones AT&T Stadium
Location: Lubbock, Texas
Capacity: 60,454
From this point on, we have reached bucket list status, starting with night games in Lubbock. Ever since I was a kid, night games in Lubbock have been some of the most intimidating environments in the Big 12.
The tactics have been less fruitful as of late, but with Joey McGuire at the helm, I would bet that we get to witness a classic Lubbock Blackout upset or two in the near future. The stadium is having major renovations done this season, but the stadium stands on it's own two feet as it is.
The tortilla tossing Red Raider faithful is a raucous crowd, and certainly on I've got to see for myself.
4. West Virginia – Milan Puskar Stadium
Location: Morgantown, West Virginia
Capacity: 60,000
West Virginia night games are almost always on national broadcast, and for good reason. Couch burning Mountaineer fans get up for home games, and the atmosphere they create is why they are fourth on our list.
The singing of "Country Roads" is easily a top-ten fan tradition in college football and is something that every die-hard college football fan should experience at least once in their lives.
The stadium itself is up to date, and ranks in the upper tier of the Big 12, but the experience is really what get WVU in this spot.
3. Oklahoma State – Boone Pickens Stadium
Location: Stillwater, Oklahoma
Capacity: 60,000
The first thing that anyone notices when they walk into Boone Pickens Stadium is the 6,160 sq. ft. jumbotron in the east end zone. My goodness, what a screen.
The stadium itself is gorgeous, and unique, as the jumbotron is the east end zone is actually fixed to Gallagher Iba Arena, where the Cowboys play basketball. The fans are rowdy, and create an unforgettable experience in Stillwater.
With a great atmosphere and a beautiful stadium, this is no doubt one of the best venues in the Big 12.
2. Texas – Darrell K. Royal Stadium
Location: Austin, Texas
Capacity: 100,119
As the only stadium in the Big 12 built to hold over 100,000 people, Darrell K. Royal comes in near the top of the Big 12, and all of college football, in terms of venue. This massive stadium is the seventh largest sporting venue in America, plus it is almost always being updated, making it a great place to play football games. So, why isn't it No. 1 on our list?
When the Longhorns are playing good football, DKR is a hard place to play, but lately even Kansas has found a way to win there. Recently UT fans have been falling off the wagon after 5-6 weeks, but hopefully that changes soon. This stadium deserves to be full week in and week out.
1. Oklahoma – Gaylord Family Oklahoma Memorial Stadium
Location: Norman, Oklahoma
Capacity: 86,112
It's not called "The Palace on the Prairie" for no reason, as the Sooners play in one of the greatest venues, and environments in all of college football. This is the best combination of tradition, fan base, and stadium that the Big 12 has to offer.
Oklahoma's stadium, like Texas' is almost constantly being updated, as OU tries to keep up with the times nationally for recruiting purposes. While that is part of the equation, the real reason why Oklahoma is at the top is the week in and week out sellouts. The Sooners have sold out every single game dating back to 1999, and their 86,000 fans show up in droves ready to sing yet another rendition of Boomer Sooner every week.
A trip to Norman should be on every college football fan's list, and that is why it is the top football venue in the Big 12.