featured
Three Thoughts on Oklahoma State's 2-0 Win Over Clemson in NCAA Softball Super Regionals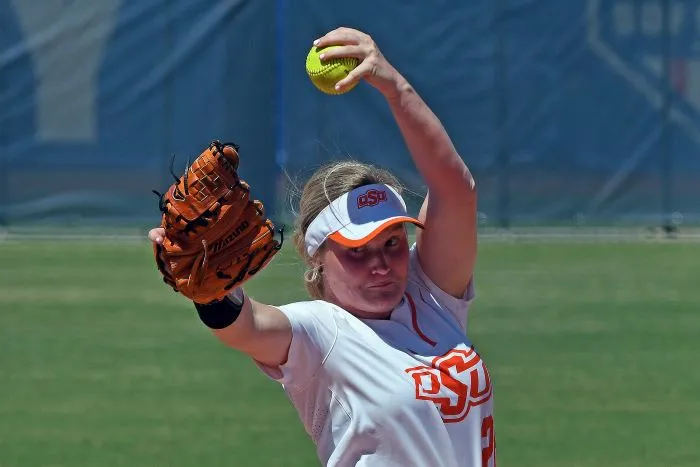 Oklahoma State got one game closer to getting back to the Women's College World Series on Thursday night with a massive Game 1 victory over the Clemson Tigers, winning by a score of 2-0.
The win makes tomorrow's 8:00 p.m. matchup a play-in game for the Cowgirls and a win or go home gam for the Tigers.
Here are three thoughts I was left with after the massive victory for Oklahoma State.
Kelly Maxwell Throws Another Gem
Kelly Maxwell, the redshirt junior pitcher for OSU, was incredible in Game 1 of the Stillwater Super Regional, striking out 13 batters and allowing just two hits in 7.0 innings of work. Maxwell continues to dominate opponents in the circle, and is certainly the biggest reason why I believe Oklahoma State is one of the top three teams left in the tournament. Her off-speed and low-rise pitches kept Clemson guessing all night long, as it has with everyone else all season. When Maxwell is on, Oklahoma State might only need one or two runs to win games this postseason.
Oklahoma State's Offense Gets it Done in the Fifth
With the game deadlocked at zeroes going into the fifth, Oklahoma State's offense had left quite a few on base, but they made the Tigers pay in the fifth when they got a chance. Chyenne Factor stepped up to the plate for her second at-bat with two runners on and brought them both home with a two RBI single. The Cowgirls offense continues to make opponents pay when they need to and the two run fifth proved to be enough to give OSU the win.
One More Win to OKC
Getting the Game 1 win was monumental for Oklahoma State on Thursday night, as it gave them a chance to use just one of their aces as well. Giving Maxwell a chance to rest will be huge if the Tigers can force a Game 3, but winning tomorrow will be no small task, as Morgan Day has been equally impressive in the circle. These two teams are incredibly well-matched and it will likely be another nail-biter tomorrow, but you won't hear me complaining. Here's a stat that I will leave you with: 81% of Game 1 winners in the Super Regionals advance to the WCWS.