Big 12 News
Griffin Doersching's 450-foot Blasts Gave OSU Energy vs. TCU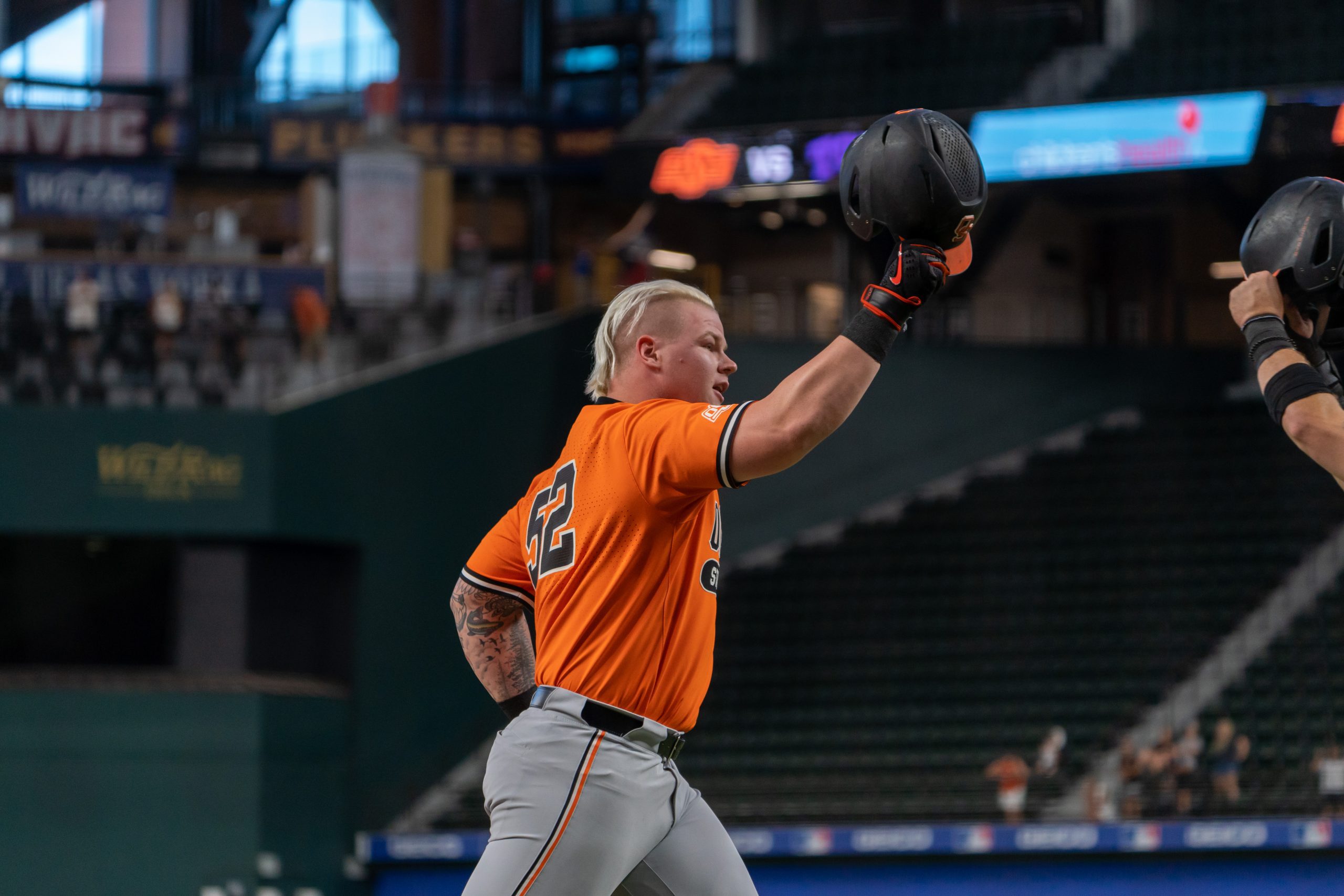 ARLINGTON, Texas — Griffin Doersching's hit took off like a rocket ship in the third inning. The only think that could stop it was a wall … 450 feet away.
Well, OK. The 'wall' wasn't 450 feet away. The marker in dead center field at Globe Life Field clearly says 407 feet. But when someone hits something an estimated 450 feet, the description can tend to get a bit hyperbolic.
The celebration afterward wasn't. It was the second straight day that Doersching delivered a big hit that energized the Cowboys.
"I love getting our team going," he said. "I love bringing the energy and you know sometimes you need those hits and those runs and I've been able to do that in the last two days and that really just sparks that dugout and that helps carry us through the rest of the game."
There was a moment on Friday in which it seemed possible that Doersching's home run might actually carry into the center field deck area. But it wasn't quite THAT high.
Doersching's home run took on great importance in the context of Oklahoma State's 8-4 win over TCU on Friday at the Philips 66 2022 Big 12 Baseball Tournament. It was an elimination game for both teams. Before Doersching went to the plate, he had a runner on base, but the Cowboys were down 3-0.
Oklahoma State had squandered a two-one, one-out situation in the first inning. The Cowboys were primed to overwhelm TCU starter Riley Cornelio. But the Cowboys failed to get a run across. One of those Cowboys that failed was Doersching. He struck out for the second out that inning.
He obviously wasn't letting that happen again. He and the team's hitting coach, Matt Holliday, talked about it after that first at-bat.
"The main thing that I realized was my timing was a little late (the first at-bat)," Doersching said. "I took a fastball that was down and in, which is a location that I can do damage on and I felt myself getting my foot down late. So that caused me not to swing and then I just chased out of the zone trying to put the ball in play. But I talked it through with Matt in the dugout and the next time I was just on time and I did what I was supposed to do."
His home run didn't give the Cowboys the lead at that point. But it sparked the Cowboys to a four-run third inning that did — at least momentarily. TCU did come back to tie the game in the bottom of the third inning, but another four-run outburst by the Cowboys in the fifth inning put the game away.
Sometimes, you need that energy. And Doersching deserves credit for waking up the Cowboys on Friday.
"Griff's home run was big because again it got us back in it after we let them get a three-nothing lead, his Homer put energy back in our dugout where it belonged," Oklahoma State head coach Josh Holliday said.
Matthew Postins can be found on Twitter @PostinsPostcard