Big 12 News
Kansas Top Big 12 Golf Team After Round 1 of Men's NCAA Championships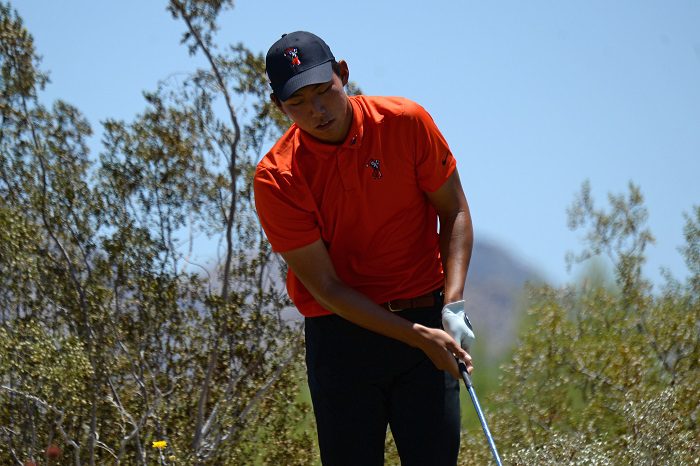 The Kansas Jayhawks were the highest-ranked team from the Big 12 after the first round of the 2022 NCAA Championships at Grayhawk Golf Club in Scottsdale, Ariz., on Friday.
The Jayhawks, one of five Big 12 teams in the event, slipped into the field with a fifth-place finish at the Bryan Region. On Friday, the Jayhawks teed off early and ended up in a tie for fourth place with Arizona.
Two other Big 12 teams are in the Top 10 — Oklahoma is in sixth and Oklahoma State is in eighth. After that, Texas finished in a tie for 11th with Florida State, while Texas Tech finished in a tie for 19th with Ole Miss, East Tennessee State and Utah.
Kansas, which at one point was under par during its first round, finished at 6-over-par 286. One Jayhawk was under par — Harry Hillier, who shot a 2-under-par 68. Callum Bruce shot a 1-over-par 71. Luke Kluver shot a 73, Ben Sigel shot a 74 and William Duquette shot a 76.
Oklahoma finished the first day with a 7-over-par 287. The Sooners were the No. 1 seed in the event, and Drew Goodman led the way for the Sooners with an even-par 70. Logan McAllister followed with a 71, while Chris Gotterup and Ben Lorenz each shot a 73. Patrick Welch finished with a 76.
Oklahoma State finished two strokes behind Oklahoma with a 9-over-par 289. Bo Jin had a scintillating day for the Cowboys, finishing with a 1-under-par 69. Eugenio Lopez-Chacarra carded a 73, along with Aman Gupta. Brian Stark shot a 74 and Jonas Baumgartner shot an 80.
The Longhorns finished with a 13-over-par 293. Cole Hammer led the Longhorns with a 1-over-par 71, which put him in the Top 20.
From there, Parker Coody shot a 72, while Pierceson Coody shot a 74. Travis Vick, who qualified for the U.S. Open earlier this week, struggled with a 76. Mason Nome rounded out the Texas lineup with a 77.
Texas Tech finished with a 17-over-par 297. Ludvig Aberg, the newly-minted Ben Hogan Award winner, shot a 1-over-par 71. After that, the Red Raiders had Baard Skogen shoot a 73, Sandy Scott shoot a 75, Carl Didrik Meen Fosaas shoot a 78 and Andy Lopez shoot a 79.
After the third round, the field will be cut to the Top 15 teams for a final round of stroke play on Monday. After Monday's fourth round, the field will be cut to the Top 8 teams for match play, which will determine the national team champion.
Follow Matthew Postins on Twitter @PostinsPostcard