Big 12 News
Kansas State Beat Texas Tech With a Sacrifice and a Squeeze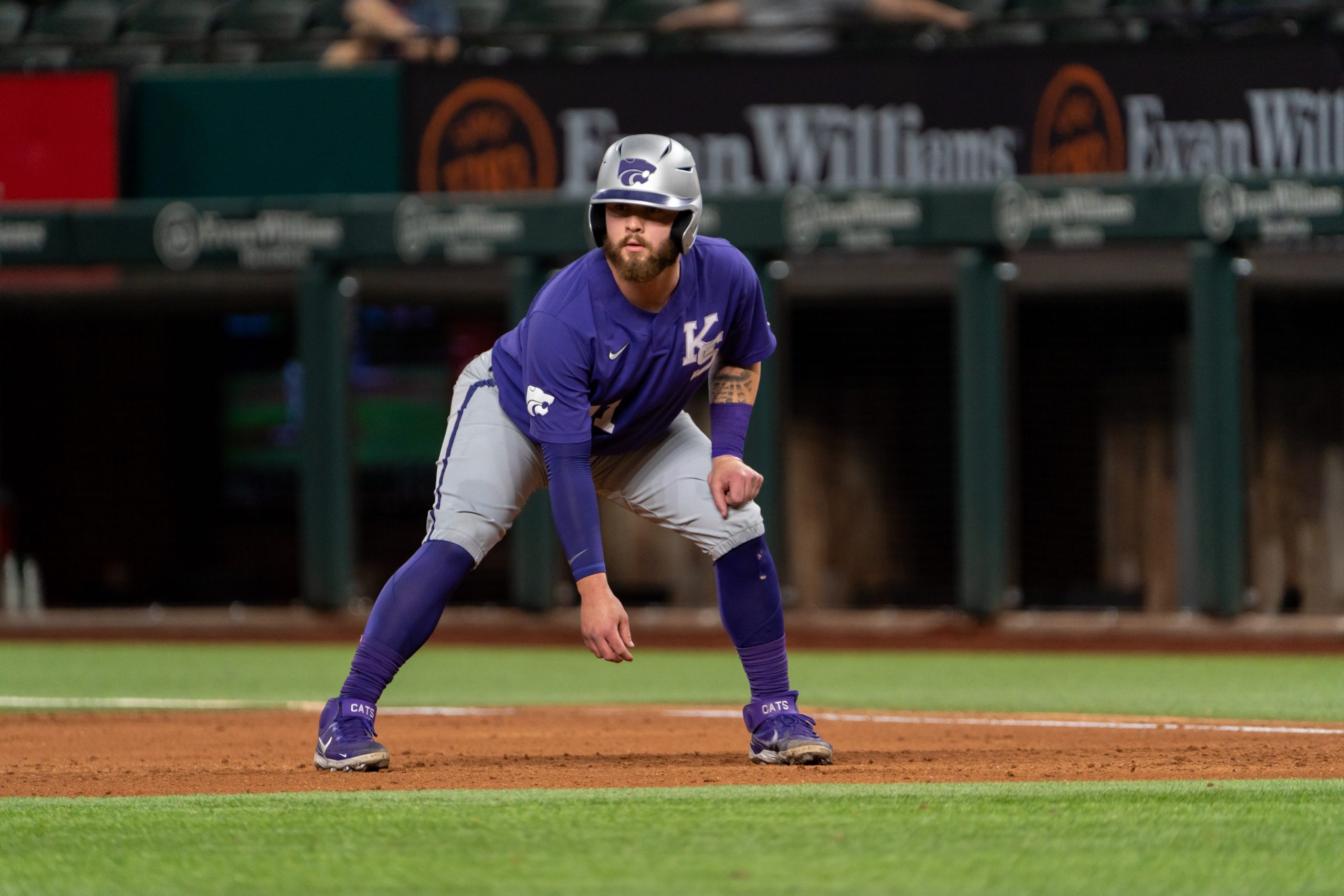 ARLINGTON, Texas — When you're playing with house money you have nothing to lose, right? So two straight sacrifice bunts seems like the perfect gamble to win the pot.
That's how Kansas State baseball coach Pete Hughes looked at it on Friday night at the Philips 66 2022 Big 12 Baseball Tournament.
Tied 5-5 with Texas Tech in the top of the 11th inning, Hughes and the Wildcats received a gift — a misplayed fly ball by Texas Tech left fielder Easton Murrell.
K-State center fielder Cole Johnson sent a towering fly ball that direction at Globe Life Field. Whether it was the roof, the closeness of Murrell to the wall or the jet stream of the air conditioner, something happened and the ball glanced off Murrell's glove and led to Johnson reaching second base on the error.
Even Texas Tech head coach Tim Tadlock had no idea what happened.
"That's a really tough play in this stadium," Tadlock said. "That ball nearly hit the roof, and in this stadium the rule is if it hits the roof you have to play it. It can be really easy to overrun a ball in that situation. We couldn't see it from the dugout (on the third-base side). We honestly thought he caught it."
He didn't, and with no one out, Hughes had a decision to make. He needed to get Johnson home.
So, how about two straight sacrifice bunts, the latter of which being a traditional squeeze play?
"They mis-played the fly ball," Hughes said. "We got a guy to second base. We hadn't been very productive getting the big hit the entire night. So I thought we'd give them a different look and try to get the winning run to third base with one out."
That was Kaelen Culpepper's sacrifice bunt. He placed down a perfect bunt and moved Johnson to third base. It was good, quality, fundamental baseball.
One sacrifice bunt is usually plenty in an inning. But a second? And a squeeze play at that?
That's where Josh Nicoloff came in. After the Wildcats decided to sacrifice Culpepper, Nicoloff had a sense the squeeze was coming.
"In my head I was kind of preparing for a squeeze, especially once (Culpepper) got the job done," Nicoloff said.
Nicoloff's bat played a role in the decision, Hughes said.
"Josh will be the first to tell you that he hasn't been feeling great at the plate," Hughes said. "You know? I trust him. He's a veteran. He's the player to get it up and down, especially a squeeze, so I thought I was putting him in the best situation to have success."
Nicoloff bunted a 1-0 pitch back to Red Raiders pitcher Brandon Beckel. Between Nicoloff's great bunt and Johnson's great jump, Beckel had no play at home. He was able to throw Nicoloff out at first, who came up limping after sliding into the bag.
The Wildcats ended up winning, 6-5, to earn another elimination game, this time with Oklahoma, on Saturday morning.
Sometimes those little 'baseball things' coaches talk about ARE the difference between winning and losing. Even when you do them twice in a row.
"We could have packed it in a couple of days ago," Hughes said. "We could have packed it in three or four different times during that game and guys just keep figuring out ways to win."
Matthew Postins can be found on Twitter @PostinsPostcard