Big 12 News
Josh Holliday On Ryan Bogusz: 'He's Definitely the Story'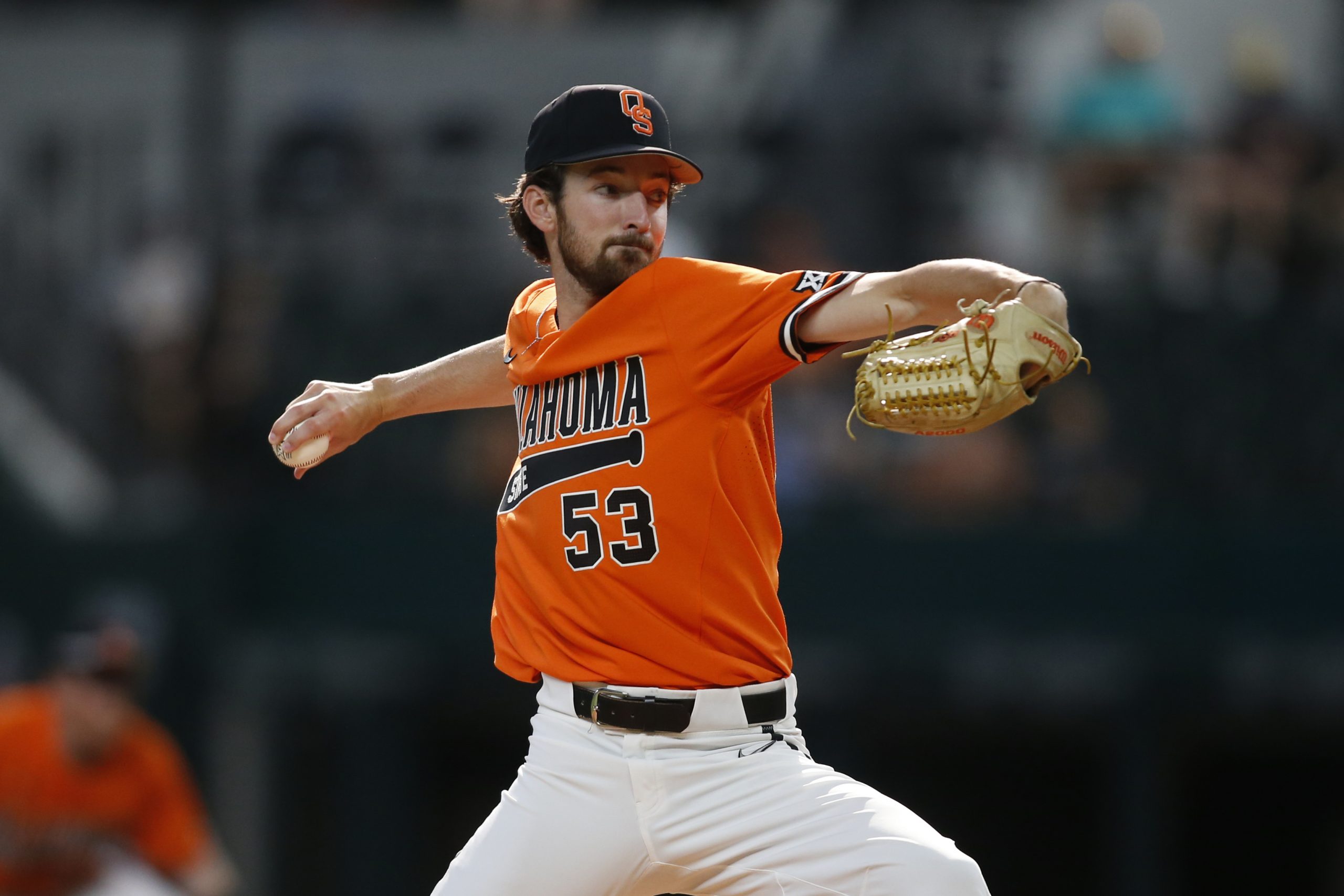 ARLINGTON, Texas — About 7:45 a.m. on Saturday morning, the Oklahoma State coaching staff gave Ryan Bogusz the high sign — he was going to start against Texas in an elimination game.
It didn't matter that Bogusz hadn't actually started a game for Oklahoma State all season. The reliever was, head coach Josh Holliday felt, the team's best shot to beat the Longhorns and advance to another elimination game at 4 p.m. in the Philips 66 2022 Big 12 Baseball Tournament.
Bogusz was better than that.
He threw eight innings on Saturday morning, giving up five hits, one run and three walks, along with striking out five. When Holliday came to get him in the top of the ninth, Oklahoma State's fans gave him a standing ovation.
"He's definitely the story," Holliday said of Bogusz.
Bogusz played his high school baseball in Frisco, so playing at Globe Life Field, which is less than 30 minutes away, drew plenty of friends and family, many of whom texted him after his first start of the season.
But before the game, once coaches let him know he was the guy, he was locked in. He said he just had to roll with it.
He also didn't change a thing.
"I think it's just the same," he said. "I mean, I'm just gonna take it inning by inning, out by out, which is the same thing I would coming out of the bullpen. But now it was starting a game."
Entering the game, Bogusz had a 2-0 record with a 1.88 earned run average in 17 appearances. He had given up eight runs and nine walks while striking out 23.
The role was new, but the result less so.
"He's been great all year long," Holliday said. "He's had a very steady presence in our bullpen. He's been incredibly valuable to us multiple times. But today was really special, because they're (Texas) very good."
Bogusz threw 106 pitches on Saturday, and Holliday made it clear he won't pitch again in this tournament. The Cowboys asked a lot of him on Saturday, and in tournaments like these — where teams in the loser's bracket can play as many as five games just to get to the championship game — sometimes coaches like Holliday have to ask players to do things they wouldn't normally do.
For instance, several years ago Holliday said that Oklahoma State got out of the loser's bracket in this tournament and started their right fielder in the championship game.
But even Holliday was impressed, and even a little surprised, with what Bogusz did on Saturday.
"If he had gotten us three, four, maybe five innings, we would have been super thrilled," Holliday said.
Matthew Postins can be found on Twitter @PostinsPostcard