Uncategorized
Three Thoughts on Texas' 9-2 Win Over Oklahoma State in the Big 12 Conference Baseball Tournament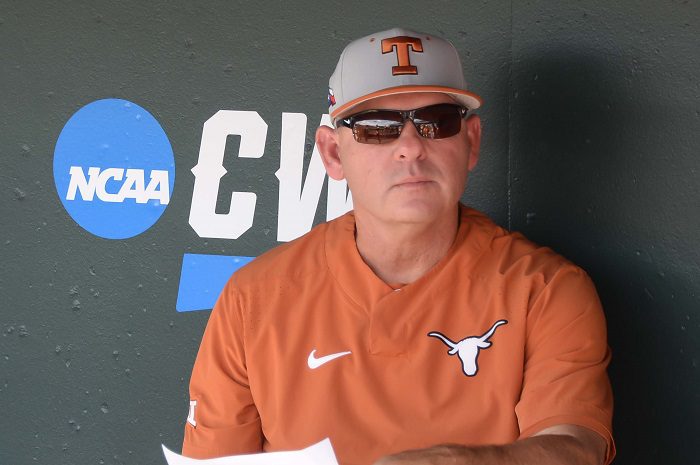 Just like Friday, Saturday was elimination day for the Big 12 Conference Baseball tournament. We have completed three full days of Big 12 action as we are finally getting down to the last four teams.
For the third game on Saturday, it was the third matchup between Texas and Oklahoma State in this tournament. The Cowboys made their way out of the losers' bracket after losing their first game to Texas before winning the rematch on Saturday morning. With each team having one loss, it was win or go home and the Longhorns were able to stay alive and advance. Here are my three thoughts on Texas' win over Oklahoma State.
1. Welcome Back Texas
I said it a couple of days ago, but it is nice to see this Texas team play up to expectations. Before the season started, they were the preseason number one and for a couple of weeks, they looked like it. But when Tanner Witt went down, this team never really looked the same and ended up finishing fifth in the Big 12 Conference. However, over the last few games they have really been impressive on the mound and at the plate.
Texas started the tournament with great wins over Oklahoma State and TCU and had to face Oklahoma State on Saturday once again. The Longhorns needed to beat the Cowboys just once but fell flat in the first game on Saturday morning with a disappointing 8-1 loss. But I must give credit to the Longhorns because in their elimination game, they shook off the rust from Saturday morning and took it to the Cowboys with an easy victory. Texas was much better on the mound in game two and the offense came alive as Trey Faltine, Douglas Hodo III, Ivan Melendez, and Dylan Campbell all had some key hits. This Texas team is starting to look much better over the last few games and they are heating up at just the right time before the postseason starts.
2. Can Both Teams Host a Regional?
Before any games started on Saturday, D1Baseball released their postseason projections. They already had Texas hosting a regional as the number eleven seed overall. With the Longhorns win over the Cowboys on Saturday, there is no doubt in my mind that they have earned the right to be a host no matter what happens on Sunday. As for Oklahoma State, they are on the outside looking in at this point. It did help that they were able to beat Texas once on Saturday, but they really could have used an extra boost if they were able to advance to the championship game. With that said, I do believe both of these teams deserve to host a regional.
3. Championship Sunday is Upon Us
We have finally made it. After four days of Big 12 baseball action, we are down to just two teams and only one game left. On top of that, this matchup will be between two heated rivals as Texas will square off against Oklahoma. Neither team won the Big 12 regular season so it would be big for either team to be crowned as Big 12 tournament champions. Outside of bragging rights and a shiny new trophy, both teams are postseason bound and need all the help they can get to boost their resume when selection Monday rolls around. As I mentioned earlier, Texas is already projected to host a regional but a win over Oklahoma on Sunday could bump them into a top eight seed nationally. However, Oklahoma is currently not projected to be a host but if they take care of business tomorrow, they could very easily be hosting a regional in Norman. There is a lot on the line on Sunday and I can't wait to watch this one because the crowd will be rocking at Globe Life Field.