Big 12 News
Four Big 12 Teams Make Cut at  Men's NCAA Golf Championships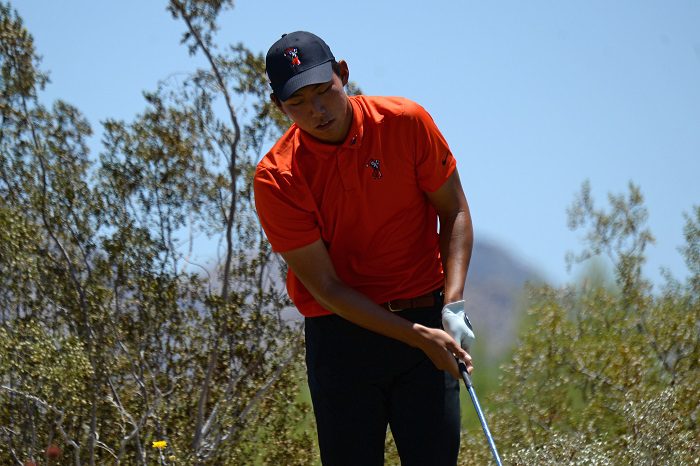 The Oklahoma Sooners remained in the lead after 54 holes at the 2022 Men's NCAA Golf Championships while four Big 12 teams made the cut on Sunday.
The Sooners, who teed off early on Sunday with most of the Big 12 teams, carries that lead into Monday's final round. While the team championship is determined by match play, finishing in first place in stroke play on Monday would ensure the Sooners a No. 1 seed.
Meanwhile, Oklahoma State had another great round and came in second place. Texas moved up the leaderboard a bit into seventh place. Texas Tech finished in a tie for ninth and Kansas — which was near the top of the leaderboard after the first round — became the only Big 12 team to fail to make the cut, as the Jayhawks finished in 17th place.
After the third round, the field was cut to the Top 15 teams. After Monday's fourth round, the field will be cut to the Top 8 teams for match play.
Oklahoma is the only team under-par for the event after 54 holes, with a 1-under 839. The Sooners shot a 3-under 277 on Sunday, led by a 7-under-par 63 by Patrick Welch (76-70-63—209). He's not the low Sooner for the event, though. That's Chris Gotterup, who shot a 68 (73-66-68—207). Both Gotterup and Welch can challenge for the individual title on Monday.
The rest of the Sooners included Logan McCallister (71-69‑74—214), Drew Goodman (70-70-74—214), and Stephen Campbell Jr. (72).
Oklahoma State is four shots back of the Sooners at 3-over-par 843, after the Cowboys shot a 3-under-par 277 on Sunday. Eugenio Lopez-Chacarra went low with a third-round 65 (73-70-65—208), putting him in the Top 5 overall going into Sunday. The other Cowboys included Bo Jin (69-74-71—214), Aman Gupta (73-65-77—215), Brian Stark (74-71-70—215) and Jonas Baumgartner (80-71-71—222).
Texas finally got low after two straight 291s, as the Longhorns shot a 2-under-par 278 to finish with a three-round total of 20-over-par 860. Cole Hammer finally got under par on Sunday with a third-round 3-under-par 67 (71-75-67—213). The rest of the Longhorns include Parker Coody (72-70-68—210), Pierceson Coody (74-75-70—217), Travis Vick (76-71-73—220) and Mason Nome (77-75-74—226).
Texas Tech moved into the Top 15 on Sunday with a 5-over-par 285, and the Red Raiders now have a three-round total of 29-over-par 869. Ludvig Aberg shot his third straight 71 to lead Texas Tech (71-71-71—213). The rest of the Red Raiders included Baard Skogen (73-70-72—215), Sandy Scott (75-71-72—218), Calum Scott (75-70—145, did not play Friday) and Andy Lopez (79-73—152, did not play on Friday). Carl Didrik Meen Fosaas did not play on Sunday.
Kansas missed the cut line after a third-round score of 17-over-par 297 for a three-round score of 40-over-par 880. Callum Bruce shot a third-round 78 and had the best three-round score for the Jayhawks (71-70-78—219). The other Jayhawks were Harry Hillier (68-83-72—223), Luke Kluver (73-77-73—223), Ben Sigel (74-74-77—225) and William Duquette (76-76-75—227).
Follow Matthew Postins on Twitter @PostinsPostcard