Oklahoma Sooners
Three Thoughts on Oklahoma's 8-1 Win Over Texas in the Big 12 Conference Baseball Championship Game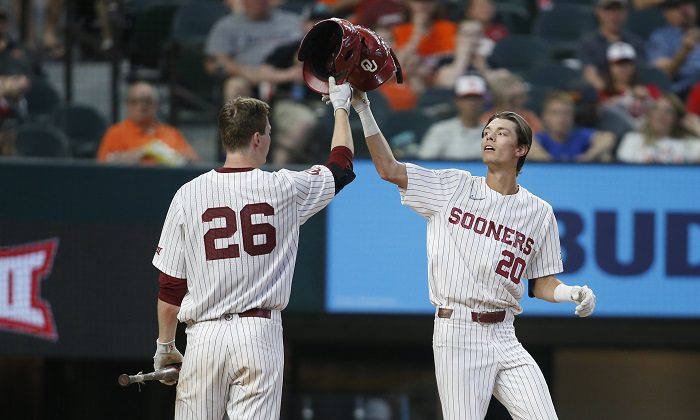 After four full days of Big 12 baseball action in Arlington, it was finally time for the last game. Eight teams came in on Wednesday hoping to get to Sunday and as we reach the final day, only two teams were left standing.
This wasn't just any Big 12 championship game because this game was between two heated rivals. The Texas Longhorns came into the tournament as the fifth seed and stared off by winning their first two games. It took two tries to beat Oklahoma State on Saturday, but they managed to find a way to get to Sunday. Meanwhile the Oklahoma Sooners started off hot winning all three games to reach the title game. In the end, the Sooners would once again take care of business finishing the weekend at a perfect 4-0 as they won their first Big 12 Conference baseball tournament since 2013. Here are my three thoughts on Oklahoma's big win over Texas.
1. Nobody Wants to Play Oklahoma Right Now
Before the tournament even started, I picked the Sooners to be the ones hoisting the trophy on Sunday. That came true as Oklahoma went 4-0 this week and absolutely crushed the Texas Longhorns on Sunday. The Sooners came into this week winning five straight series against Big 12 opponents and they once again came out on top. Their pitching has been phenomenal with Jake Bennett, David Sandlin, and Cade Horton on the mound. Overall, they have given up just eleven runs in four games which is impressive. Of course, their offense has been keeping up with the great pitching as Peyton Graham and Jimmy Crooks have been racking this week at the plate.
With the win over Texas, this team is now 15-4 in their last 19 games against Big 12 opponents. Call me crazy, but outside of Tennessee this is the hottest team in college baseball.
2. Despite Loss, Texas Will Host a Regional
There is no question that this loss hurts. Losing a Big 12 title game hurts but it stings a little more when it is to your rival. While the pitching has been up and down over the last three games, what has been a bit more concerning is the lack of offense this team has had in two out of their last three games. The Longhorns scored just one run in their loss to Oklahoma State on Sunday morning and then managed to just score a single run in the title game against Oklahoma. For as much as we have been praising the bats of this team, they sure have been inconsistent at times this past week. With that said, the Longhorns managed to win three games in this tournament and played their way into a top sixteen spot to host a regional. That is a big advantage for Texas because Austin is always a tough place for opposing teams to play in. However, their postseason run may not last long if they aren't more consistent.
3. Oklahoma Got Snubbed
As I mentioned above, even with the loss on Sunday, Texas was still able to host a regional. Oklahoma State was also announced to be a host as well as all sixteen regional sites were announced on Twitter. Unfortunately for the Sooners, despite going a perfect 4-0 this week they didn't get a bid to host. You can say what you want about the RPI, but this team was a win away from clinching a share of the Big 12 regular season title and now just won a Big 12 tournament championship. They deserve to host a regional and I feel like they got snubbed. No matter where this team ends up, they are capable of beating anyone in the entire country. Also, how silly is it to announce regional hosts in the middle of conference tournament games? It makes no sense.