Big 12 News
Four Big 12 Teams Advance to Match Play at NCAA Golf Championships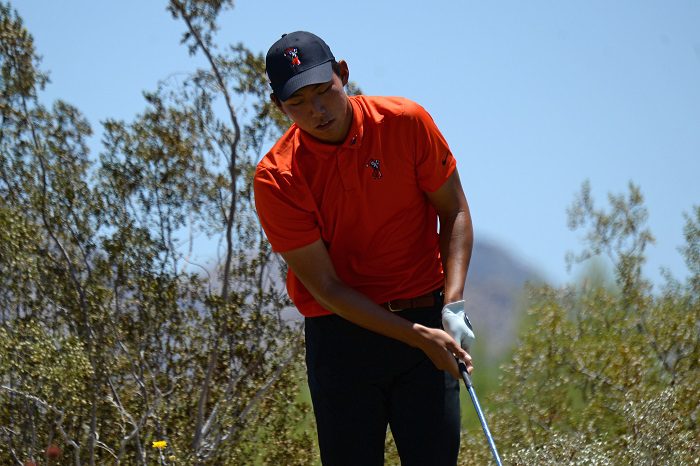 Four Big 12 teams will play in the beginning of the match-play portion of the 2022 Men's NCAA Golf Championships after advancing out of stroke play on Monday.
The Oklahoma Sooners, who led stroke play after the third round, finished in a tie for first place with Vanderbilt and North Carolina.
Along with the Sooners, the Texas Longhorns finished fourth, the Oklahoma State Cowboys finished fifth and the Texas Tech Red Raiders finished eighth.
That means that the quarterfinals will feature one Big 12 showdown. No. 4 Texas will face No. 5 Oklahoma State. Oklahoma became the No. 2 seed by virtue of a tiebreaker and will face No. 7 seed Arizona State in the first round. North Carolina will be the No. 3 seed and face No. 6 seed Pepperdine. That means that No. 8 seed Texas Tech will face No. 1 seed Vanderbilt.
Oklahoma finished the tournament with a 14-over-par 1,134 (287-275-277-295) and fell back from being the only team under-par for the event after 54 holes.
The Sooners were led by Chris Gotterup (73-66-68-74—281), Patrick Welch (76-70-63-77—286), Drew Goodman (70-70-74-73—287), Logan McAllister (71-69-74-74—288) and Stephen Campbell Jr. (72-74—146, played in last two rounds).
Texas has played consistently better each day of stroke play and finished off that portion with a 17-over-par 1,137 (291-291-278-277). The Longhorns were the only team to shoot under-par as a team on Monday.
Parker Coody finished in a tie for second overall (72-70-68-70—280). After that he was joined by Pierceson Coody (72-75-70-69—286), Cole Hammer (71-75-67-74—287), Travis Vick (76-71-73-70—290) and Mason Nome (77-75-74-68—294).
Oklahoma State finished with a 21-over-par 1,141 (289-277-277-298).
OSU's Eugenio Lopez-Chacarra also finished in a tie for second individually (73-70-65-72—280). He was followed by Brian Stark (74-71-70-71—286), Aman Gupta (73-65-77-78—293), Bo Jin (69-74-71-80—294) and Jonas Baumgartner (80-71-71-77—299).
Texas Tech finished with a 33-over-par 1,153 (297-287-285-284) as the Red Raiders claimed the last place in match play six shots ahead of Arkansas.
Ludvig Aberg led the way for the Red Raiders (71-71-71-72—285), followed by Baard Skogen (73-70-72-73—288), Sandy Scott (75-71-72-74—292), Calum Scott (75-70-70—215, did not play one round) and Andy Lopez (79-73-69—221, did not play one round).
Follow Matthew Postins on Twitter @PostinsPostcard